Your Order May Be Delayed As Our Shipping Partners Are Experiencing Unexpected Issues.
Read More

We have detected you're not on the correct site for the car you have selected! Click the
green button
below to go to the correct site.
Select your car:
Select
Save this car to my garage
Selected: ALA5747

Left front or right rear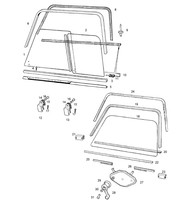 View in Catalog
Select variations below for more information:
Alternate Products

$65.96 Classic Mini Mk3 Door Glass Window Rail Support & Rubber Kit
MKIII window drop frame. Rubber insert is part number 24A948.