Imagine winning a Mini Cooper High Performance Driving Experience program where you will ARRIVE & DRIVE a Mini Mania Cooper S!

As you arrive at the Thunderhill Raceway at Hooked on Driving you'll receive a warm welcome from Don Racine, Owner of MINI MANIA. Throughout your action packed day, Don will personally guide you through the program where you'll learn how to EXPERIENCE a MINI to its MAX!

Mini Cooper enthusiasts say, "It's the DRIVE of Their LIVES"!

To "comment", simply review this article and then scroll down to the bottom where it says "Leave a comment". Here we suggest you "Login" to be eligible to win and contact you when you win. As you make a comment, try to share with others your opinion on why you would like to go to the Mini Cooper High Performance Driving Experience. ~ Thanks & Good Luck!

Free High Performance Driving Experience Program ($300. value)
Free Mini or Classic Mini Included to Drive
Free Mini Cooper/Classic Performance Coaching

1st 100 entries receive a Free performance driving DVD ($20. value)
Learn how to get the most out of yourself and your Mini
I recently again had the opportunity to spend a day with a Mini on a racetrack. But this was not just another race but rather a 'test' day. We needed an opportunity to do some tire testing when we found this "HPDE" event. While we have actually sponsored one or two of these in the past, this was the first time I took the time to also serve as an coach/instructor. All I can say is that this organization really has it's act together and I would recommend that EVERY Mini owner should make the effort to attend one of them. Absolutely stock street cars are the most common and probably the best place to start in fact. (The slower you go, the more you learn).
Below find only part of the great information that can be found on the "Hooked on Driving" Website.
Hooked On Driving is a leading national performance driving program, commonly known as an HPDE, or HPDS (high performance driving experience, high performance driving school).
The Street Is Your Classroom
You do not need a green flag and FIA curbing to whittle down lap times. In 22 drills we show you how you can safely improve your driving skills on the open road.
[Click on the image below to read the entire publication.]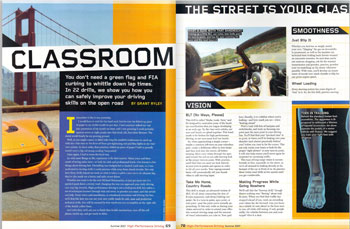 Getting On Track
Club racer and track day instructor David Ray shares the fundamentals of high-performance driving.
[Click on the image below to read the entire publication.]