BREMBO BRAKE ROTOR TYPES FOR BREMBO BIG BRAKE KITS
Brake discs are one of the major brake tuning options which a professional race team has at their disposal at any typical race weekend. There are many subtle changes that can be made to a brake disc casting or configuration, which can drastically influence braking characteristics. A brake disc's face type (slot / groove pattern) is one of those changes, and can influence many braking characteristics.
Some of them are:
Initial response (bite)
Control and modulation
Release
Pad wear
Disc wear
There are also many variables which are considered when engineering a brake disc face type. Changing some of these variables can drastically influence the overall performance of the brake disc. Some (of the many) variables which are taken into consideration for brake disc slot design are:
Slot depth
Slot angle
Length of slot
Number of slots
Brembo and Brembo Racing primarily offer 4 different brake disc face patterns based on the application, intended use, driver preference, and other technical requirements of the application or chassis.
Brembo Drilled brake discs Type I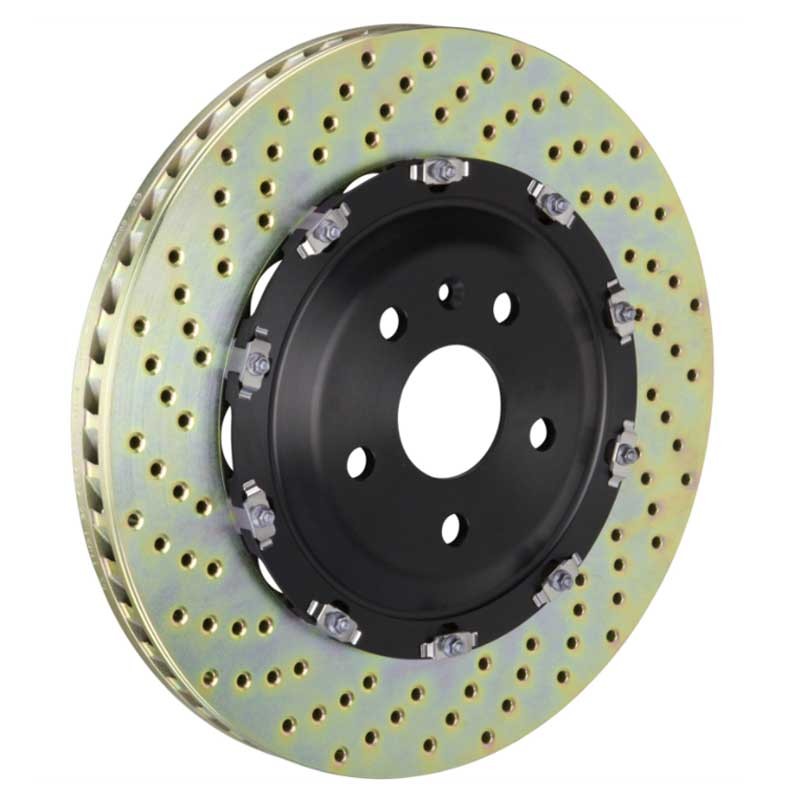 Drilled brake discs are suitable for a wide range of applications,, operating temperatures and driving environments (especially wet weather).
Benefit: Offers the highest initial response of all the available disc face types while continuously refreshing the braking surface and being also typically a bit lighter.
Drawback: Drilled discs are generally more prone to heat checking and thermal cracking if used consistently at extremely high temperatures. This however, really depends on the track, driver, and chassis setup.
Brembo Slotted Discs Type II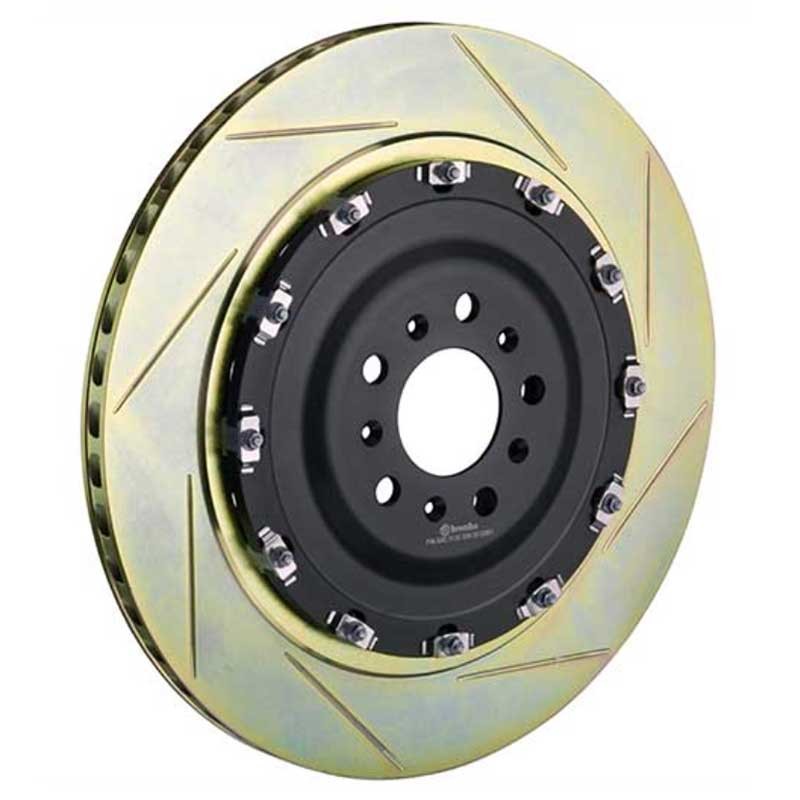 Brembo "8 straight – slot" face type with an emphasis on stable brake feel and improve resilience against thermal cracking.
Benefit: stable braking feel at all temperatures, low disc wear, and continuously refreshing the braking surface for optimum performance.
Drawback: The Type 1 standard disc face has the lowest "initial response" or "bite" compared to Brembo Drilled, Type III or Type V discs.
Brembo Discs Type III (aggressive face type)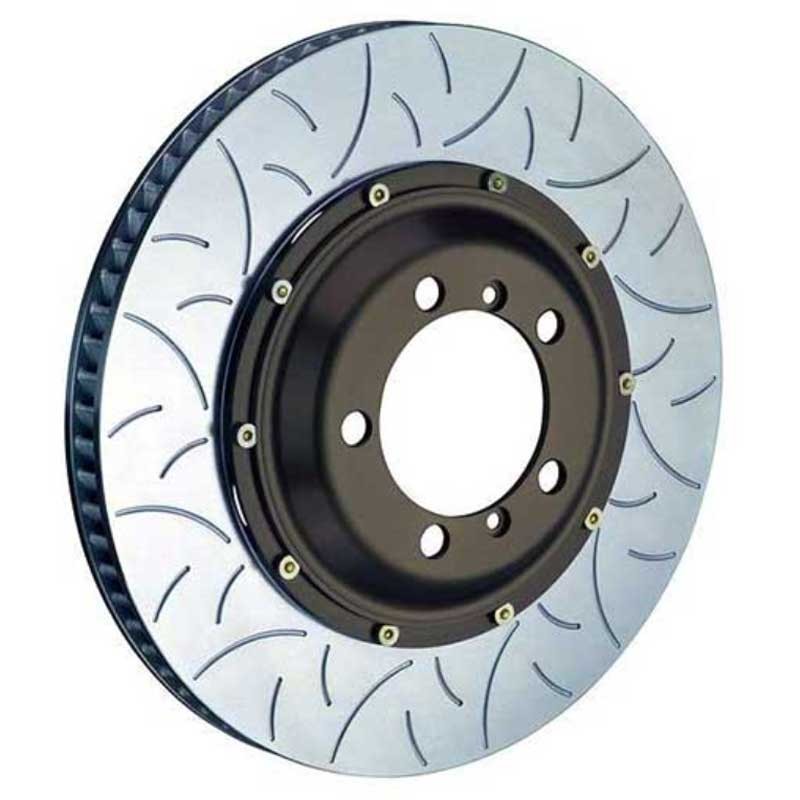 Motorsport developed face type with an emphasis on high initial response while maintaining a smooth pedal release.
Benefit: highest overall braking confidence, control, and allows driver to spend less time on the brake pedal. When chasing the fastest lap time, less time on the brake pedal typically leads to a quicker lap time.
Drawback: Any disc with an aggressive face type like the Type III will have a higher chance to mechanically abrade the pad and disc surface leading to quicker or uneven pad wear. However, this really depends on variables such as car setup or track layout.
Brembo Discs Type V (endurance face type)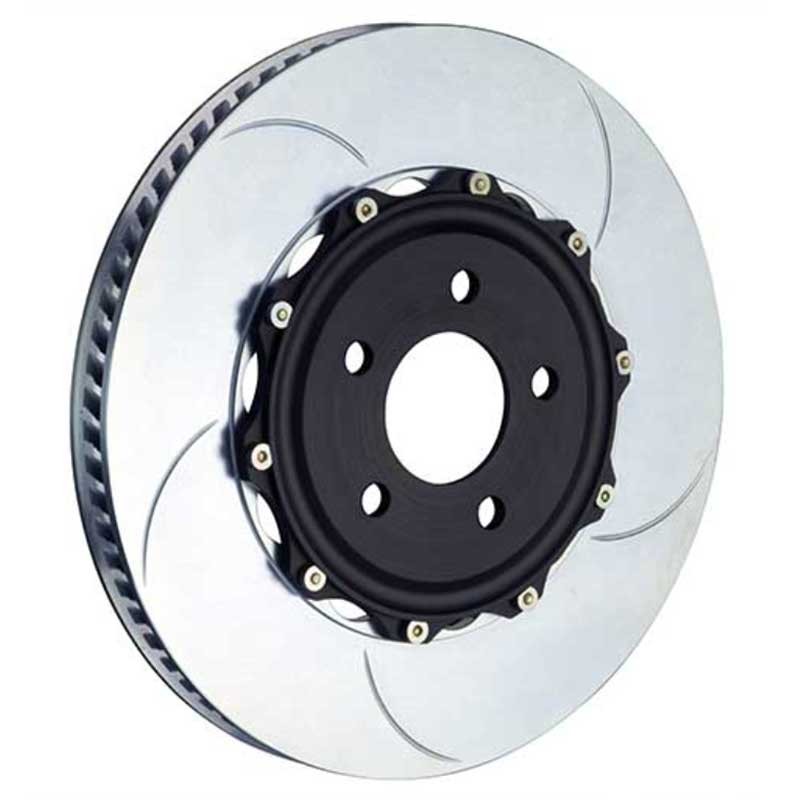 Motorsport developed face type with marginally less initial response compared to the type III face type.
The Brembo Racing type V face type was also designed to have lower pad and disc wear for certain long distance endurance races (mostly 10, 12 and 24 hour races)..
Benefits: Braking modulation and control similar to Type III, while offering lower overall pad and disc wear on the track.
Drawback: While the most well balanced of all Brembo face types, Type V discs generally do not have as high of an initial response compared to the Type III.