The Society of Automotive Engineers (SAE) developed the OBD II system and they specified that diagnostic codes comprise 5 digits.

A MINI's self-diagnosis and reporting system is referred to as on-board diagnostics (OBD) in the automotive industry. The status of the various vehicle emissions and control systems can be accessed by the owner or a repair expert using OBD systems.

When diagnosing issues inside a MINI, the current protocol, OBD-II, enables access to data from the computer [electronic control unit (ECU)] and is a useful tool. The SAE J1979 standard outlines a procedure for requesting various diagnostic information as well as a list of common metrics that the ECU may make available. Under the dashboard or the front interior kick panel is where the OBD electrical connector is generally found. For information on where the OBD port is on your car, consult the owner's manual.

If your Check Engine Light (CEL) illuminates, it means the control system detected an issue or that anything was outside of typical operating parameters. The DTC code(s) (Diagnostic Trouble Codes), which will define the issue perceived by the ECU, can be read using a basic OBD-II scan tool. As a courtesy, any big-box auto parts store will read OBD-II DTC codes. Additionally, you can use a cheap scan tool or OBD-II Bluetooth reader and use an app like Torque or OBD Check to connect to a smartphone.

Note: Every manufacturer gives a DTC code a different definition. P3546 is defined differently on a MINI than it is on a Ford. The next time you search up a code, remember this. When troubleshooting a MINI or BMW, refer to the list below for a high degree of confidence in DTC definition.

Service centers for MINI and BMW do not employ OBD DTC "P" codes. The code identifiers generated by BMW's proprietary software and code reading system are formatted in HEX. Public access to the HEX code decoder ring is restricted.

The OBD II DTC codes produced by MINI Coopers are listed below.
The basic 5 Code Scheme is as follows: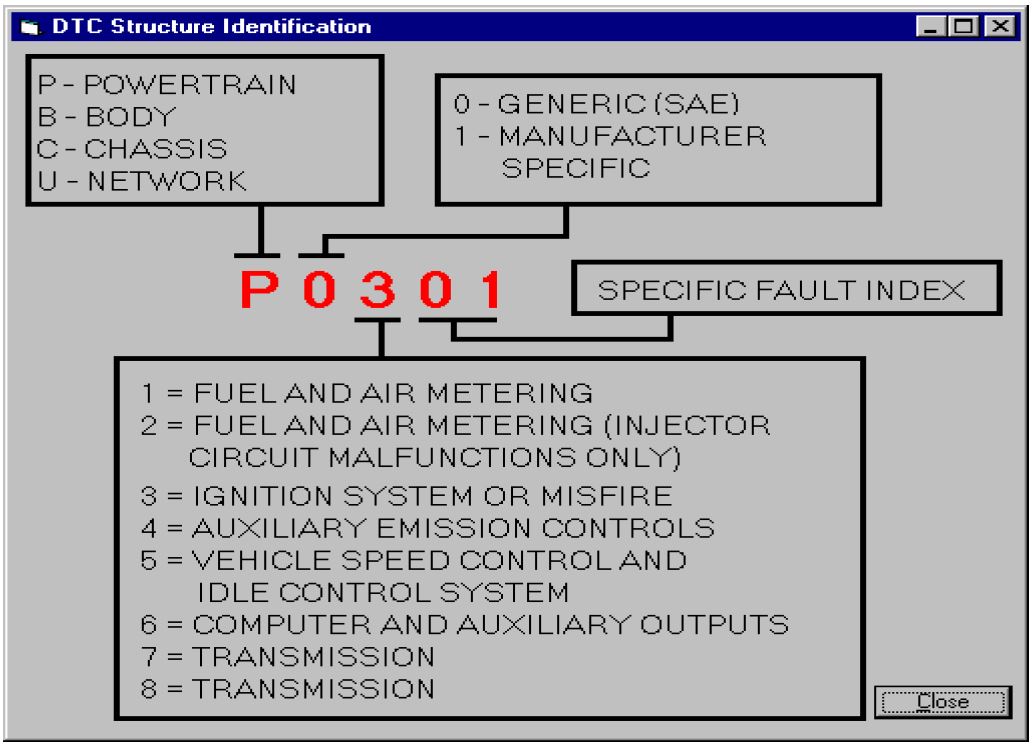 ---
For Generation 2 MINIs: The P code, or Powertrain DTC codes are as follows:

P0000 - P0999

| | |
| --- | --- |
| P000A | 'A' Camshaft Position Slow Response (Bank 1) |
| P0001 | Fuel Volume Regulator Control Circuit Open |
| P0003 | Fuel Volume Regulator Control Circuit Low |
| P0004 | Fuel Volume Regulator Control Circuit High |
| P0010 | VANOS intake-side solenoid valve, control-activation: Open circuit |
| P0011 | 'A' Camshaft Position Timing Over-Advanced or System Performance (Bank 1) |
| P0012 | 'A' Camshaft Position Timing Over-Retarded (Bank 1) |
| P0012 | VANOS Intake: Closed-loop control fault, camshaft sticks |
| P0013 | VANOS Exhaust-side solenoid valve, control-activation: Open circuit |
| P0013 | 'B' Camshaft Position Actuator Circuit Open (Bank 1) |
| P0014 | 'B' Camshaft Position Timing Over-Advanced or System Performance (Bank 1) |
| P0015 | 'B' Camshaft Position Timing Over-Retarded (Bank 1) |
| P0015 | VANOS Exhaust: Closed-loop control fault, camshaft sticks |
| P0015 | VANOS Exhaust; Closed-loop control fault, position not reached |
| P0016 | Camshaft Position Sensor Correlation (Bank 1 Sensor 'A') |
| P0017 | Camshaft Position Sensor Correlation (Bank 1 Sensor 'B') |
| P0030 | HO2S Heater Control Circuit (Bank 1 Sensor 1) |
| P0031 | HO2S Heater Control Circuit Low (Bank 1 Sensor 1) |
| P0032 | HO2S Heater Control Circuit High (Bank 1 Sensor 1) |
| P0033 | Turbocharger / Supercharger Bypass Valve Control Circuit |
| P0034 | Turbocharger / Supercharger Bypass Valve Control Circuit Low |
| P0035 | Turbocharger / Supercharger Bypass Valve Control Circuit High |
| P0036 | HO2S Heater Control Circuit (Bank 1 Sensor 2) |
| P0037 | HO2S Heater Control Circuit Low (Bank 1 Sensor 2) |
| P0038 | HO2S Heater Control Circuit High (Bank 1 Sensor 2) |
| P0039 | Turbocharger / Supercharger Bypass Valve Control Circuit Range / Performance |
| P0071 | Ambient Air Temperature Sensor Circuit Range / Performance |
| P0072 | Ambient Air Temperature Sensor Circuit Low |
| P0073 | Ambient Air Temperature Sensor Circuit High |
| P0087 | Fuel Rail Pressure Too Low |
| P007B | Charge-air temperature sensor, voltage change: Too rapid |
| P007C | Charge-air temperature sensor, electrical: Short circuit to ground |
| P007D | Charge-air temperature sensor, electrical: Short circuit to positive |
| P0087 | Fuel Rail / System Pressure - Too Low |
| P0088 | Fuel Rail / System Pressure - Too High |
| P00BC | Mass Airflow System, Plausibility: Air mass too low |
| P00BD | Mass Airflow System, Plausibility: Air mass too high |
| P0100 | Mass Air Flow or Volume 'A' Circuit |
| P0102 | Mass or Volume Air Flow Circuit Low Input |
| P0103 | Mass or Volume Air Flow Circuit High Input |
| P0107 | Manifold Absolute Pressure/Barometric Pressure Control Circuit Low Input |
| P0108 | Manifold Absolute Pressure/Barometric Pressure Control Circuit High Input |
| P0111 | Intake Air Temperature Sensor Bank 1 Temperature Range / Performance |
| P0112 | Intake Air Temperature Sensor 1 Circuit Low |
| P0113 | Intake Air Temperature Sensor 1 Circuit High |
| P0116 | Coolant Temperature Sensor rationality Check |
| P0117 | Engine Coolant Temperature Circuit Low |
| P0118 | Engine Coolant Temperature Circuit High |
| P0120 | Throttle/Pedal Position Sensor/Switch 'A' Circuit |
| P0121 | Throttle/Pedal Position Sensor/Switch 'A' Circuit Range / Performance |
| P0122 | Throttle/Pedal Position Sensor/Switch 'A' Circuit Low |
| P0123 | Throttle/Pedal Position Sensor/Switch 'A' Circuit High |
| P0128 | Coolant Thermostat (Coolant Temperature Blow Thermostat Regulation Temperature) |
| P0128 | Program map thermostat: Sticking in open position |
| P0129 | Barometric Pressure, operating range: Pressure too low |
| P0130 | O2 Sensor (Bank 1 Sensor 1) |
| P0130 | Before-catalyst oxygen sensor, electrical: Nernst-cell resistance or ceramic temperature implausible, wiring or heater fault |
| P0131 | O2 Sensor Circuit Low Voltage (Bank1 Sensor 1) |
| P0132 | O2 Sensor Circuit High Voltage (Bank1 Sensor 1) |
| P0133 | O2 Sensor Circuit Slow Response (Bank1 Sensor 1) |
| P0135 | O2 Sensor Heater Circuit (Bank 1 Sensor 1) |
| P0135 | Measured temperature of oxygen sensor before catalytic converter: Failure to achieve operating temperature in warm-up phase. |
| P0136 | O2 Sensor (Bank 1 Sensor 2) |
| P0136 | Oxygen sensor behind catalytic converter, electrical: Open circuit |
| P0137 | O2 Sensor Circuit Low Voltage (Bank1 Sensor 2) |
| P0138 | O2 Sensor Circuit High Voltage (Bank1 Sensor 2) |
| P0139 | O2 Sensor Circuit Slow Response (Bank1 Sensor 2) |
| P0139 | Oxygen sensor behind catalytic converter, again: Failure to reach overrun voltage threshold |
| P013A | O2 Sensor Slow Response - Rich to Lean (Bank 1 Sensor 2) |
| P013A | Oxygen sensor behind catalytic converter, dynamic response, from lean to rich, Slow response |
| P013E | O2 Sensor Delayed Response - Rich to Lean (Bank 1 Sensor 2) |
| P0140 | O2 Sensor Circuit No Activity Detected (Bank 1 Sensor 2) |
| P0140 | Oxygen sensor behind catalytic converter, electrical: Heating-cycle coupling to signal |
| P0141 | O2 Sensor Heater Circuit (Bank 1 Sensor 2) |
| P0141 | Oxygen sensor behind catalytic converter, operation: Internal resistance too high |
| P0148 | Fuel Delivery Error |
| P0171 | System Too Lean (Bank 1) |
| P0172 | System Too Rich (Bank 1) |
| P0190 | Fuel Rail Pressure Sensor 'A' Circuit |
| P0192 | Fuel Rail Pressure Sensor 'A' Circuit Low |
| P0193 | Rail-pressure sensor, electrical: Short circuit to positive |
| P0201 | Injector Circuit/Open - Cylinder 1 |
| P0202 | Injector Circuit/Open - Cylinder 2 |
| P0203 | Injector Circuit/Open - Cylinder 3 |
| P0204 | Injector Circuit/Open - Cylinder 4 |
| P0221 | Throttle/Pedal Position Sensor/Switch 'B' Circuit Range/Performance |
| P0222 | Throttle/Pedal Position Sensor/Switch 'B' Circuit Low |
| P0223 | Throttle/Pedal Position Sensor/Switch 'B' Circuit High |
| P0234 | Boost pressure control, upper value: Boot pressure too high |
| P0237 | Turbocharger Boost Sensor 'A' Circuit Low |
| P0238 | Turbocharger Boost Sensor 'A' Circuit High |
| P023B | Turbocharger 'A' Overboost Condition |
| P023C | Charge Air Cooler Coolant Pump Control Circuit High |
| P0244 | Turbocharger Wastegate Solenoid 'A' |
| P0245 | Turbocharger Wastegate Solenoid 'A' Low |
| P0246 | Turbocharger Wastegate Solenoid 'A' High |
| P0261 | Cylinder 1 Injector Circuit Low |
| P0262 | Cylinder 1 Injector Circuit High |
| P0264 | Cylinder 2 Injector Circuit Low |
| P0265 | Cylinder 2 Injector Circuit High |
| P0267 | Cylinder 3 Injector Circuit Low |
| P0268 | Cylinder 3 Injector Circuit High |
| P0270 | Cylinder 4 Injector Circuit Low |
| P0271 | Cylinder 4 Injector Circuit High |
| P0299 | Boost-pressure control, lower value: Boost pressure too low |
| P0300 | Cylinder Misfire, Several Cylinders |
| P0300 | Combustion miss, multiple cylinders: Fuel injection deactivation |
| P0300 | Combustion miss, multiple cylinders: Increased exhaust emissions |
| P0300 | Combustion miss, multiple cylinders: Increased exhaust emissions after start sequence |
| P0301 | Cylinder 1 Misfire Detected |
| P0301 | Combustion miss, cylinder 1: Fuel injection deactivation |
| P0301 | Combustion miss, cylinder 1: Increased exhaust emissions |
| P0301 | Combustion miss, cylinder 1: Increased exhaust emissions after start sequence |
| P0302 | Cylinder 2 Misfire Detected |
| P0302 | Combustion miss, cylinder 2: Fuel injection deactivation |
| P0302 | Combustion miss, cylinder 2: Increased exhaust emissions |
| P0302 | Combustion miss, cylinder 2: Increased exhaust emissions after start sequence |
| P0303 | Cylinder 3 Misfire Detected |
| P0303 | Combustion miss, cylinder 3: Fuel injection deactivation |
| P0303 | Combustion miss, cylinder 3: Increased exhaust emissions |
| P0303 | Combustion miss, cylinder 3: Increased exhaust emissions after start sequence |
| P0304 | Cylinder 4 Misfire Detected |
| P0304 | Combustion miss, cylinder 4: Fuel injection deactivation |
| P0304 | Combustion miss, cylinder 4: Increased exhaust emissions |
| P0304 | Combustion miss, cylinder 4: Increased exhaust emissions after start sequence |
| P0324 | Knock Control System Error |
| P0324 | Knock control, fault check: Malfunction, system fault |
| P0327 | Knock Sensor 1 Circuit Low (Bank 1 or Single Sensor) |
| P0327 | Knock sensor signal: Electrical fault KS (loose contact) of KS loose |
| P0328 | Knock Sensor 1 Circuit High (Bank 1 or Single Sensor) |
| P0328 | Knock sensor signal: Engine produces excessive mechanical noise or crankshaft outside tolerance (sensitivity) |
| P0335 | Crankshaft Position Sensor 'A' Circuit |
| P0335 | crankshaft sensor, signal: missing |
| P0336 | Crankshaft Position Sensor 'A' Range |
| P0336 | Crankshaft sensor: Interference on crankshaft signal |
| P0340 | Camshaft Position Sensor 'A' Circuit Bank (Bank 1 or Single Sensor) |
| P0341 | Camshaft Position Sensor 'A' Performance (Bank 1) |
| P0341 | Intake camshaft sensor: Signal implausible |
| P0342 | Camshaft Position Sensor 'A' Circuit Low (Bank 1) |
| P0342 | Intake camshaft position sensor: Signal too low |
| P0343 | Intake camshaft sensor: Signal is high |
| P0351 | Ignition Coil 'A' Primary / Secondary Circuit |
| P0352 | Ignition Coil 'B' Primary / Secondary Circuit |
| P0353 | Ignition Coil 'C' Primary / Secondary Circuit |
| P0354 | Ignition Coil 'D' Primary / Secondary Circuit |
| P0365 | Camshaft Position Sensor 'B' Circuit (Bank 1) |
| P0366 | Camshaft Position Sensor 'B' Circuit Performance (Bank 1) |
| P0366 | Exhaust camshaft sensor: signal implausible |
| P0367 | Camshaft Position Sensor 'B' Circuit Low (Bank 1) |
| P0367 | Exhaust camshaft sensor: Signal too low |
| P0368 | Exhaust camshaft sensor: Signal too high |
| P053C | Positive Crankcase Ventilation Heater Control Circuit High (Check PCV Electrical connector(s)) |
P1000 - P1999
| | |
| --- | --- |
| P1000 | VVT-System Min. Stroke Adaptation Number of Stops Exceeded |
| P1004 | VVT Guiding Sensor Solenoid Loss (Bank 1) |
| P1005 | VVT Guiding Sensor Reset Error (Bank 1) |
| P1006 | VVT Eccentric Shaft Sensor Parity Error (Bank 1) |
| P1007 | VVT Eccentric Shaft Sensor Gradient Error (Bank 1) |
| P1012 | VVT Guiding Sensor Solenoid Loss (Bank 1) |
| P1013 | VVT Reference Sensor Reset Error (Bank 1) |
| P1014 | VVT Eccentric Shaft Sensor Parity Error (Bank 1) |
| P1015 | VVT Eccentric Shaft Sensor Gradient Error (Bank 1) |
| P1017 | VVT Guiding Sensor Plausibility (Bank 1) |
| P1017 | Valvetronic actuator motor, position sensors: Signal Implausible |
| P1019 | VVT Supply Voltage Sensors High Input (Bank 1) |
| P101A | Valvetronic, adjustment range: Travel range not initialized |
| P101A | Valvetronic, adjustment range: Travel limit not learned owing to environmental conditions |
| P101B | VVT Self-Learning Function Storage of Learning Values in EEPROM Not Possible |
| P101C | VVT Load Shedding Relay Control Circuit Input High |
| P101D | VVT Load Shedding Relay Control Circuit Input Low |
| P101E | VVT Load Shedding Relay Control Circuit Input |
| P1020 | VVT Sensor Supply Voltage Low Input (Bank 1) |
| P1023 | VVT Self Learning Function Faulty Adjustment Range (Bank 1) |
| P1023 | Valvetronic, adjustment range: Range check fault |
| P1023 | Valvetronic, adjustment range: Range check, deviation from base learning routine |
| P1024 | VVT Self Learning Function Faulty Lower Learning Range (Bank 1) |
| P1025 | VVT Self Learning Function No Positions Stored (Bank 1) |
| P1030 | VVT Control Motor Position Control Deviation (Bank 1) |
| P1030 | Valvetronic system: Closed loop deviation too high |
| P1031 | VVT Actuator Monitoring Recognition of Direction of Rotation Plausibility (Bank 1) |
| P1047 | VVT Control Circuit High (Bank 1) |
| P1047 | Valvetronic actuator motor, control-activation Short Circuit to positive |
| P1048 | VVT Control Circuit Low (Bank 1) |
| P1048 | Valvetronic actuator motor, control-activation Short Circuit to ground |
| P1049 | VVT Control Circuit Short |
| P1050 | Valvetronic Module Power Stage Generic |
| P1050 | Valvetronic actuator motor, control-activation: Open circuit |
| P1056 | VVT Control Circuit High (Bank 1) |
| P1057 | VVT Motor Supply Voltage (Bank 1) |
| P105C | VT Control Motor Tight |
| P105D | Cold Start Intake Air Temperature - Too Low |
| P1062 | VVT Limp Home Request Full Stroke Position Reached (Bank 1) |
| P1063 | VVT Limp Home Request Air Mass Plausibility (Bank 1) |
| P1077 | VVT Overload Protection Control Motor Input Temperature (Bank 1) |
| P1078 | VVT Overload Protection Current Too High (Bank 1) |
| P10B0 | Charge air temperature: Plausibility, temperature too high |
| P10B8 | Charge air temperature: Signal, remains stationary |
| P10CE | Rail-pressure sensor, operating range: Pressure to high |
| P10CF | Rail-pressure sensor, operating range: Pressure to low |
| P10D0 | Charge air temperature sensor, plausability, cold start: Temperature too high |
| P10D1 | Charge air temperature sensor, plausability, cold start: Temperature too low |
| P10D4 | Coolant temperature sensor, plausability, cold start: Temperature too low |
| P10D5 | Coolant temperature sensor, plausability, cold start: Temperature too high |
| P10D9 | Rail-pressure sensor, signal: No variation |
| P10DE | Valvetronic, adjustment range: Initial learning outside tolerance |
| P10DF | Valvetronic, driver circuit component protection: System deactivation |
| P10E1 | Valvetronic system, No motion detected |
| P10E2 | Valvetronic actuator motor, position sensors: Short circuit or line break (open circuit) |
| P10E5 | DME, internal fault, Valvetronic control: Malfunction |
| P10E6 | Valvetronic actuator motor, position sensors: Malfunction in voltage supply |
| P10E7 | Valvetronic, overload protection: Driver circuit overloaded |
| P10E8 | Valvetronic, overload protection: Actuator motor overloaded |
| P10F2 | Boost pressure - barometric pressure, comparison: Boost air pressure too high |
| P10F3 | Boost pressure - barometric pressure, comparison: Boost air pressure too low |
| P1104 | Differential Pressure Sensor Intake Manifold Pressure Too Low (Bank 1) |
| P1105 | Differential Pressure Sensor Intake Manifold Pressure Too High (Bank 1) |
| P110D | Throttle Position Sensor 'A' and 'B' Range / Performance |
| P110E | Internal Code (Service / End-of-line Test) |
| P110F | Ambient Temperature Sensor Faulty CAN Signal |
| P111A | Mass or Volume Air Flow va O2 Sensor Too High (Bank 1) |
| P111B | Mass or Volume Air Flow va O2 Sensor Too Low (Bank 1) |
| P111E | Intake Temperature Sensor Bank 1 Maximum Temperature Implausible |
| P1124 | Differential Pressure Sensor Intake Manifold Pressure Offset (Bank 1) |
| P112B | Engine Coolant Temperature Sensor 1 Minimum Temperature Implausible |
| P112E | Throttle valve angle - Intake manifold pressure, comparison: Pressure too low |
| P112F | Manifold Absolute Pressure to Throttle Angle - Too High |
| P113A | Mass or Volume Air Flow 1 Correction Signal Plausibility Too Long |
| P113B | Mass or Volume Air Flow 1 Correction Signal Plausibility Too Long |
| P115A | Mass or Volume Air Flow 'A' Maximum Exceeded |
| P115B | Mass or Volume Air Flow 'A' Minimum Fallen Below |
| P115C | Mass or Volume Air Flow 'A' Too Low |
| P115D | Mass or Volume Air Flow 'A' Too High |
| P115F | Throttle / Pedal Position Sensor / Switch 'A' / 'B' Synchronous Operation Correlation (Bank 1) |
| P116F | Air Mass Sensor Signal Electrical |
| P118A | Engine Oil Separator Heating Circuit High |
| P118B | Engine Oil Separator Heating Circuit Low |
| P118C | Engine Oil Separator Heating Circuit Open |
| P1197 | Differential Pressure Sensor Intake Manifold High Input (Bank 1) |
| P1198 | Differential Pressure Sensor Intake Manifold Low Input (Bank 1) |
| P1199 | Differential Pressure Sensor Intake Manifold Low Input (Bank 1) |
| P119A | Manifold Absolute Pressure Sensor High (Bank 1) |
| P119B | Manifold Absolute Pressure Sensor Low (Bank 1) |
| P119D | Fuel trim, Injector aging long term adaptation too high (Bank 1) |
| P11AA | Throttle valve, operation: Resistance to motion, too slow |
| P11CB | arometric pressure, operating range: Pressure too high |
| P1216 | Fuel Pump Emergency Operation |
| P1247 | Barometric Pressure, operating range: Pressure implausible |
| P1250 | Manifold Absolute Pressure Too High |
| P1255 | Manifold Absolute Pressure Too Low |
| P1260 | Boost Pressure Control, deactivation: Boost pressure build-up blocked |
| P1296 | Boost Pressure Control, Boost Pressure too high |
| P1297 | Boost Pressure Control, Boost Pressure too low |
| P129D | Manifold Absolute Pressure Maximum Pressure Implausible |
| P129E | Manifold Absolute Pressure Minimum Pressure Implausible |
| P12A0 | Turbocharger / Supercharger Boost Pressure, Pressure Front of Throttle Valve too High |
| P12A1 | Turbocharger / Supercharger Boost Pressure, Pressure Front of Throttle Valve too Low |
| P12A2 | Turbocharger / Supercharger Boost Pressure, Maximum Pressure Front of Throttle Valve Implausible |
| P12A3 | Turbocharger / Supercharger Boost Pressure, Minimum Pressure Front of Throttle Valve Implausible |
| P12A5 | Absolute Pressure Sensor, intake manifold, plausibility, shutdown phase : Pressure too high |
| P12A8 | Boost Pressure Sensor, plausibility, shutdown phase : Pressure too low |
| P12A9 | Boost Pressure Sensor, plausibility, shutdown phase : Pressure too high |
| P12B8 | Barometric Pressure Sensor, plausibility, shutdown phase : Pressure too low |
| P12B9 | Barometric Pressure Sensor, plausibility, shutdown phase : Pressure too high |
| P12DA | Boost Pressure - barometric pressure, comparison: Boost pressure too high |
| P12DB | Boost Pressure - barometric pressure, comparison: Boost pressure too low |
| P1338 | Camshaft Position Sensor Rationality Check (Inlet - Outlet) |
| P1338 | Intake Camshaft: Angular offset to crankshaft is outside tolerance range |
| P1339 | Camshaft Position Sensor Rationality Check (Inlet - Outlet) |
| P1339 | Exhaust Camshaft: Angular offset to crankshaft is outside tolerance range |
| P136C | Knock Control Super Knocking Detected |
| P137A | Knock Control Super Knocking Caused by Defective Ignition Coil |
| P137B | Knock Control Super Knocking Caused by Defective Knock Sensor |
| P137D | Knock Control Torque Limitation Caused by Too High Number of Super Knocking |
| P137E | Knock Control Permanent Limitation Caused by Too High Number of Super Knocking |
| P137F | Knock Control Fuel Cutoff Due to Super Knocking |
| P13A0 | Knock Control Fuel Cutoff Due to Super Knocking Cylinder 1 |
| P13A0 | Super knock on cylinder 1: Injection Deactivation |
| P13A1 | Knock Control Fuel Cutoff Due to Super Knocking Cylinder 2 |
| P13A1 | Super knock on cylinder 1: Injection Deactivation |
| P13A2 | Knock Control Fuel Cutoff Due to Super Knocking Cylinder 3 |
| P13A2 | Super knock on cylinder 1: Injection Deactivation |
| P13A3 | Knock Control Fuel Cutoff Due to Super Knocking Cylinder 4 |
| P13A3 | Super knock on cylinder 1: Injection Deactivation |
| P13AE | Knock sensor, electrical: Signal input 'A', short circuit to ground |
| P13AF | Knock sensor, electrical: Signal input 'A', short circuit to positive |
| P13B8 | Knock sensor, electrical: Signal input 'B', short circuit to ground |
| P13B9 | Knock sensor, electrical: Signal input 'B', short circuit to positive |
| P13C0 | VANOS intake: Closed loop control fault, camshaft sticks |
| P13C9 | VANOS intake: Closed loop control fault, camshaft sticks |
| P13CA | Exhaust camshaft, mechanical: Assembly faulty |
| P13CB | Exhaust camshaft, mechanical: Incorrect installation |
| P13EA | Ignition-angle adjustment at part load, cold start: Ignition angle advanced too far |
| P1407 | Fuel Level Signal 1 |
| P1407 | Tank fuel-level sensor, left signal: CAN value implausible |
| P1408 | Tank fuel-level sensor, right signal: CAN value implausible |
| P1409 | Fuel Level 1 CAN Error |
| P1433 | Fuel Level 2 CAN Error |
| P1434 | DMTL Tank Leakage (Diagnostic Module Tank Leakage) |
| P1434 | DMTL, system fault: Abort due to current fluctuations during reference measurement |
| P1447 | DMTL Pump current too high during switching solenoid test |
| P1447 | DMTL, system fault: Pump current reaches limit during valve test |
| P1448 | DMTL, Pump current too low |
| P1448 | DMTL, system fault: Pump current too low during reference measurement |
| P1449 | DMTL, Pump current too high |
| P1449 | DMTL, system fault: Pump current too high during reference measurement |
| P144A | Fuel level / Tank capacity correlation |
| P144B | Fuel level / Fuel consumption correlation |
| P144B | Tank fuel-level sensor: Fuel consumption rate does not correlate with change fuel level |
| P1497 | Downstream Throttle Air Leak |
| P150A | Battery Sensor Extended Communication Circuit |
| P150B | Battery Sensor Serial Data Interface |
| P150C | Battery Sensor Firmware Implausible |
| P150C | Intelligent battery sensor, signal: Software fault |
| P15DF | Fuel Rail Pressure Too Low-Cold Start Cycle |
| P16E9 | Faulty Engine Control Module (DME) or programming |
P2000 - P2999
| | |
| --- | --- |
| P2065 | Fuel Level Sensor 'B' Circuit |
| P2067 | Fuel Level Sensor 'B' Circuit Low |
| P2067 | Tank fuel level sensor, right, signal: Short circuit to ground |
| P2068 | Fuel Level Sensor 'B' Circuit High |
| P2088 | 'A' Camshaft Position Actuator Control Circuit Low (Bank 1) |
| P2088 | VANOS intake side solenoid valve, control activation: Short circuit to ground |
| P2089 | 'A' Camshaft Position Actuator Control Circuit High (Bank 1) |
| P2089 | VANOS intake side solenoid valve, control activation: Short circuit to positive |
| P2090 | 'B' Camshaft Position Actuator Control Circuit Low (Bank 1) |
| P2090 | VANOS exhaust side solenoid valve, control activation: Short circuit to ground |
| P2091 | 'B' Camshaft Position Actuator Control Circuit High (Bank 1) |
| P2091 | VANOS exhaust side solenoid valve, control activation: Short circuit to positive |
| P2096 | Post Catalyst Fuel Trim System too lean (Bank 1) |
| P2096 | Pre-catalyst oxygen sensor, mixture fine tuning: Exhaust gas behind catalytic converter too lean |
| P2096 | Before catalyst oxygen sensor, system check: Signal stuck at rich |
| P2097 | Post Catalyst Fuel Trim System too rich (Bank 1) |
| P2097 | Pre-catalyst oxygen sensor, mixture fine tuning: Exhaust gas behind catalytic converter too rich |
| P2097 | Before catalyst oxygen sensor, system check: Signal stuck at lean |
| P2100 | Throttle Actuator 'A' Control Motor Circuit Open |
| P2102 | Throttle Actuator 'A' Control Motor Circuit Low |
| P2103 | Throttle Actuator 'A' Control Motor Circuit High |
| P2118 | DME, Internal Fault, throttle valve control: Overheated or current too high |
| P2120 | Throttle / Pedal position sensor 'D' Circuit |
| P2122 | Throttle / Pedal position sensor 'D' Circuit Low |
| P2123 | Throttle / Pedal position sensor 'D' Circuit High |
| P2127 | Throttle / Pedal position sensor 'E' Circuit Low |
| P2128 | Throttle / Pedal position sensor 'E' Circuit High |
| P2138 | Throttle / Pedal position sensor 'D ' 'E' Voltage Correlation |
| P213F | Fuel Pump Emergency Cut Off |
| P2146 | Fuel Injector Group 'A' Supply Voltage Circuit Open |
| P2147 | Fuel Injector Group 'A' Supply Voltage Circuit Low |
| P2148 | Fuel Injector Group 'A' Supply Voltage Circuit High |
| P2177 | Fuel Trim Limit Exceeded System too lean |
| P2178 | Fuel Trim Limit Exceeded System too rich |
| P2187 | System too lean at idle (Bank 1) |
| P2188 | System too rich at idle (Bank 1) |
| P2195 | O2 Sensor stuck lean (Bank 1 Sensor 1) |
| P2195 | Pre-catalyst oxygen sensor, plausibility: Mixture behind catalytic converter to rich |
| P2196 | O2 Sensor stuck rich (Bank 1 Sensor 1) |
| P2196 | Pre-catalyst oxygen sensor, plausibility: Mixture behind catalytic converter to lean |
| P2228 | Barometric Pressure Sensor 'A' Circuit Low |
| P2229 | Barometric Pressure Sensor 'A' Circuit High |
| P2237 | O2 Sensor Reference Circuit Continuity (Bank 1 Sensor 1) |
| P2243 | O2 Sensor Reference Voltage Circuit Open (Bank 1 Sensor 1) |
| P2251 | O2 Sensor Reference Circuit Continuity (Bank 1 Sensor 1) |
| P2251 | Oxygen Sensor before catalytic converter, electrical: Open Circuit, virtual ground |
| P2270 | O2 Sensor Signal Stuck Lean (Bank 1 Sensor 2) |
| P2271 | O2 Sensor Signal Stuck Rich (Bank 1 Sensor 2) |
| P2400 | DMTL Activation Control Circuit Open |
| P2400 | DMTL lead diagnosis pump, control activation: Open circuit |
| P2401 | DMTL Activation Control Circuit low |
| P2401 | DMTL lead diagnosis pump, control activation: Short circuit to ground |
| P2402 | DMTL Activation Control Circuit high |
| P2402 | DMTL lead diagnosis pump, control activation: Short circuit to positive |
| P240A | DMTL Pump Heater Circuit Open |
| P240A | DMTL, heater, activation: Open circuit |
| P240B | DMTL Pump Heater Circuit Low |
| P240B | DMTL, heater, activation: Short circuit to ground |
| P240C | DMTL Pump Heater Circuit High |
| P240C | DMTL, heater, activation: Short circuit to positive |
| P2414 | O2 Sensor Oxygen Sample Error (Bank 1 Sensor 1) |
| P2414 | Oxygen sensor before catalytic converter, installation: Sensor is not installed correctly in exhaust system |
| P2418 | DMTL solenoid Control Circuit Open |
| P2418 | DMTL solenoid valve, control activation: Open Circuit |
| P2419 | DMTL solenoid Control Circuit Low |
| P2419 | DMTL solenoid valve, control activation: Short circuit to ground |
| P2420 | DMTL solenoid Control Circuit High |
| P2420 | DMTL solenoid valve, control activation: Short circuit to positive |
| P2421 | EVAP evaporative emissions valve: Sticks in closed position |
| P2422 | EVAP evaporative emissions valve: jammed open |
| P2510 | ECM/PCM Power Relay Sense Circuit Range / Performance |
| P2600 | Coolant Pump 'A' Control Circuit Open |
| P2602 | Coolant Pump 'A' Control Circuit Low |
| P2603 | Coolant Pump 'A' Control Circuit High |
| P2610 | Engine shutdown time: Signal implausible |
| P2626 | O2 Sensor Pumping Circuit Open (Bank 1 Sensor 1) |
| P2637 | orque Management Feedback Signal 'A' |
| P2719 | Pressure Control Solenoid 'D' Control Circuit Range / Performance |
| P2720 | Pressure Control Solenoid 'D' Control Circuit Low |
| P2721 | Pressure Control Solenoid 'D' Control Circuit High |
| P2728 | Pressure Control Solenoid 'E' Control Circuit Range / Performance |
| P2729 | Pressure Control Solenoid 'E' Control Circuit Low |
| P2730 | Pressure Control Solenoid 'E' Control Circuit High |
| P2737 | Pressure Control Solenoid 'F' Control Circuit Range / Performance |
| P2738 | Pressure Control Solenoid 'F' Control Circuit Low |
| P2739 | Pressure Control Solenoid 'F' Control Circuit High |
| P2762 | Torque Converter Clutch Pressure Control Solenoid Control Circuit Range / Performance |
| P2763 | Torque Converter Clutch Pressure Control Solenoid Control Circuit High |
| P2764 | Torque Converter Clutch Pressure Control Solenoid Control Circuit Low |
| P2885 | Boost Pressure Control Deviation, plausibility (low or high boost pressure detected) |
| | |
P3000 - P3999
| | |
| --- | --- |
| P3007 | Fuel Rail Pressure, Preassure-Rate-Controlled, Maximum Pressure Exceeded |
| P3012 | Adaptation Value too high (Bank 1 Sensor ) |
| P3014 | O2 Sensor IC supply Voltage too Low (Bank 1 Sensor 1) |
| P3016 | O2 Sensor Ceramic Internal Resistance Adjusted Value Plausibility (Bank 1 Sensor 1) |
| P3018 | O2 Sensor Lambda Controller Value above threshold due to open pumping circuit (Bank 1 Sensor 1) |
| P3018 | Oxygen sensor before catalytic converter, pumping current wire: Oxygen sensor control valve above threshold due to open pump wire |
| P301A | Injector 1 Stuck Open |
| P301B | Injector 2 Stuck Open |
| P301C | Injector 3 Stuck Open |
| P301D | Injector 4 Stuck Open |
| P301E | Injector 1 or 3 Stuck Open |
| P301F | Injector 2 or 4 Stuck Open |
| P3020 | O2 Sensor Signal too low during coast down fuel cut off (Bank 1 Sensor 1) |
| P3022 | O2 Sensor Disturbed SPI WRAF-IC (bank 1 Sensor 1) |
| P3022 | DME, internal fault, oxygen sensor before catalytic converter: Communication fault |
| P3024 | O2 Sensor Initialization Error WRAF-IC (Bank 1 Sensor 1) |
| P3024 | DME, internal fault, oxygen sensor before catalytic converter" Initialization fault |
| P3026 | Sensor operating temperature not reached (Bank 1 Sensor 1) |
| P302A | High pressure fuel system, fuel pressure, maximum pressure exceeded |
| P302C | High pressure fuel system, fuel pressure, pressure falls below minimum threshold |
| P306A | Fuel system: Pressure too high, emergency running mode with low pressure |
| P306C | Fuel system: Pressure briefly too high, RPM and load factor limited |
| P306F | Fuel pressure: Pressure drop below minimum, injection deactivation to protect catalyst |
| P3091 | Fuel Rail Pressure Pressure-Rate-Controlled, fallen below minimum pressure |
| P3100 | Cylinder 1 High Pressure Injector Low Side Circuit Open |
| P3101 | Cylinder 1 High Pressure Injector Low Side Circuit Low |
| P3102 | Cylinder 1 High Pressure Injector Low Side Circuit High |
| P3103 | Cylinder 1 High Pressure Injector Low Side Booster Time Error |
| P3104 | Cylinder 2 High Pressure Injector Low Side Circuit Open |
| P3105 | Cylinder 2 High Pressure Injector Low Side Circuit Low |
| P3106 | Cylinder 2 High Pressure Injector Low Side Circuit High |
| P3107 | Cylinder 2 High Pressure Injector Low Side Booster Time Error |
| P3108 | Cylinder 3 High Pressure Injector Low Side Circuit Open |
| P3109 | Cylinder 3 High Pressure Injector Low Side Circuit Low |
| P3110 | Cylinder 3 High Pressure Injector Low Side Circuit High |
| P3111 | Cylinder 3 High Pressure Injector Low Side Booster Time Error |
| P3112 | Cylinder 4 High Pressure Injector Low Side Circuit Open |
| P3113 | Cylinder 4 High Pressure Injector Low Side Circuit Low |
| P3114 | Cylinder 4 High Pressure Injector Low Side Circuit High |
| P3115 | Cylinder 4 High Pressure Injector Low Side Booster Time Error |
| P3148 | Cylinder 1 High Pressure Injector High Side Circuit Shorted to Coil |
| P3149 | Cylinder 1 High Pressure Injector Low Side Circuit Low |
| P3150 | Cylinder 1 High Pressure Injector Low Side Circuit High |
| P3151 | Cylinder 2 High Pressure Injector High Side Circuit Shorted to Coil |
| P3151 | Cylinder 2 High Pressure Injector Low Side Circuit Low |
| P3153 | Cylinder 2 High Pressure Injector Low Side Circuit High |
| P3154 | Cylinder 3 High Pressure Injector High Side Circuit Shorted to Coil |
| P3155 | Cylinder 3 High Pressure Injector Low Side Circuit Low |
| P3156 | Cylinder 3 High Pressure Injector Low Side Circuit High |
| P3157 | Cylinder 4 High Pressure Injector High Side Circuit Shorted to Coil |
| P3158 | Cylinder 4 High Pressure Injector Low Side Circuit Low |
| P3159 | Cylinder 4 High Pressure Injector Low Side Circuit High |
| P316B | Engine Coolant Temperature Signal Stuck Low |
| P3198 | Engine Coolant Temperature Gradient too High |
| P3199 | Engine Coolant Temperature Signal Stuck |
| P3202 | Powertrain CAN chip cut off |
| P3202 | PT CAN communications fault: CAN bus off or CAN bus defective |
| P3209 | CAN message monitoring ASC/DSC Alive check |
| P3210 | CAN monitoring ASC / DSC plausibility |
| P3214 | CAN message monitoring ETC plausibility |
| P3215 | CAN message monitoring IHKA No Signal |
| P3217 | CAN message instrument pack plausibility |
| P3219 | CAN message SZL alive check |
| P321E | Ambient pressure sensor maximum pressure implausible |
| P321F | Ambient pressure sensor minimum pressure implausible |
| P3220 | CAN Message SZL no signal |
| P3221 | CAM Message Monitoring SZL Plausibility |
| P3223 | Generator Mechanical |
| P3323 | Alternator, mechanical: Malfunction |
| P3225 | Generator Communication Error |
| P322A | mbient Pressure Sensor Continuity |
| P3232 | Control Module Monitoring Ignition Timing Plausibility |
| P3233 | Control Module Monitoring Relative Charge Plausibility |
| P3235 | DME, internal fault Version encoding monitor |
| P3235 | Control Module Monitoring Version coding plausibility |
| P3236 | Control Module Monitoring Injection time relative fuel quantity plausibility |
| P3237 | Control Module Monitoring Fuel Correction Error |
| P3237 | DMW, internal fault: Mixture correction factor plausibility monitor |
| P3238 | Control Module Monitoring TPU Chip defective |
| P3239 | Control Module - No Coding |
| P323C | Ambient pressure sensor continuity error |
| P323D | Control Module Monitoring Air Mass Flow Balancing, Control Ramge Monitoring |
| P323E | Control Module Monitoring Fuel Pressure Sender |
| P324A | Alternator: Incorrect Type |
| P324C | Generator: Over Temperature Calculated |
| P324C | Alternator, plausibility, temperature, over temperature calculated |
| P324E | Alternator, regulator: incorrect type |
| P325A | Generator Electrical Error Calculated |
| P325A | Alternator, plausibility, electrical: Calculated |
| P325C | DME, internal fault, electric accelerator pedal monitor: RPM sensor |
| P325D | DME, internal fault Level 1 injection quantity limitation monitor |
| P325D | DME, internal fault Level 2 injection quantity limitation monitor |
| P325E | DME, internal fault, electric accelerator pedal monitor: Ignition timing monitoring |
| P325F | DME, internal fault Relative Fuel mass plausibility monitor |
| P326A | DME, internal fault, electric accelerator pedal monitor: AD converter test voltage check |
| P326B | DME, internal fault, electric accelerator pedal monitor: Airflow calibration |
| P326C | DME, internal fault, electric accelerator pedal monitor, Implausible drivetrain conversion ratio |
| P3337 | Function monitoring Lambda plausibility |
| P3337 | DME, internal fault: monitoring of specified lambda value |
| | |

U0000 - U9999

U0001 - High Speed CAN Communication Bus

U1001 - Lost communication with TCM

U0121 - Lost communication with Anti-lock Brakes System (ABS) Control Module

U0167 - Lost communication with vehicle immobilizer control module

U110F - PT CAN. message (EGS torque request, 0xB5): omitted

U1115 - Lost communication with Vehicle Mode Status
U1116 - Message monitoring vehicle mode status checksum error
U1118 - PT CAN, message (speed of vehicle. 0x1A0): omitted

U111A - PT CAN. message (transmissiondata, 0xBA): Missing
U111E - Lost communication with Teerminal Status
U111F - Message monitoring terminal status checksum error

U1126 - PT CAN, message (Status of DSC, 0x19E): Missing
U1129 - Lost communication with reverse status

U112A - Message monitoring instrument pack status alive check
U112B - Lost communication with instrument pack status
U112D - Lost communication with control crash cut off EKP
U112E - Lost communication with pedal position sensor

U1132 - No BSD message from generator
U1134 - Lost communication with Lamp Status

U113C - Lost communication with Time / Date

U114A - Message monitoring engine control torque 1 alive check
U114B - Lost communication with Engine Control Torque 1
U114C - Message monitoring Engine Control Torque 1 Checksum error

U115A - Message monitoring engine control torque 3 alive check
U115B - Lost communication with Engine Control Torque 3
U115C - Message monitoring Engine Control Torque 3 Checksum error
U115E - Lost communication with Engine Data

U1166 - Message monitoring EWS (Electronic immobilizer) - Frame error
U1169 - Lost communication with OBD-Sensor

U116D - PT CAN, message (wheel speed, 0x0CE): missing
U116F - Lost Communication with Sports Mode ETC

U1173 - PT CAN, message (transmission data, 0x0BA): checksum fault / alive check

U11C9 - PT CAN, message (EGS torque request, 0xB5): Checksum fault / alive check
U11CA - PT CAN, message (speed of vehicle, 0x1A0): Checksum fault / alive check

U1202 - Message Monitoring TCM Alive Check


Save
Save
Save
Save
Save
Save