1275 Pistons
Over the years, there have probably been a dozen "stock" 1275 pistons. Currently, three different designs are available from AE/Hepolite as "stock" replacements. All (AE Brand) have an 8.4cc dished top, but compression ratios are carried by changing pin height (Pin height is the distance from the top of the piston to the center of the wrist pin- see dimension "A" shown here).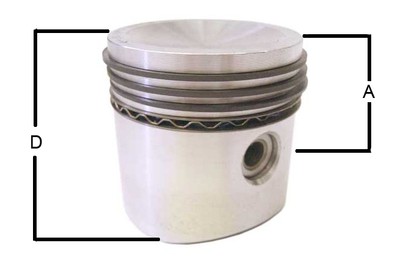 All of the current pistons also differ in appearance from the 60's originals due to being an improved, "low drag", slipper skirt design with a shorter , lighter wrist pin.
Note: The AE brand of pistons is now owned by Federal Mogul and typically packages and sold under the brand "Nural"
21251 (AE) Pistons
Low Compression 1275cc Sprite or Midget replacement piston choice has a pin height of 1.4689" which could result in a compression ratio of 8.8:1. They have a 4mm oil ring and two 1.5mm compression rings. Available sizes: std., +.020, +.030, +.040, +060
21250 (AE) Pistons
High performance replacement pistons suitable for up to 7,000 RPM. Pin height is 1.498 which could result in a compression ratio of 9.4:1. They also have 4mm oil rings and 1.5mm compression rings. Available sizes are std., +.020, +.040, +.060.- This series is no longer available and has been replaced by th2 21253 series of pistons
21253 (AE) Pistons
Best performance stock piston have a possible compression ratio of 10.0:1. Pin height of these is 1.5276. Performance is enhance by the use of 3mm oil rings and the smaller drain slot behind this ring decreases the risk of breakage under severe loads!
21253 (County Brand) Pistons
The "County Brand" of pistons are a copy of AE piston, made to the same specifications and using the same size rings. Made in Taiwan.
BIG BORE 1275cc Pistons
Russell Engineering Pistons are designed with high performance and flexibility in mind. You can now have the advantages of Big Bore while still providing for future use of the block. A design feature of these pistons has the ring set placed higher in the piston than most other manufacturers to minimize piston rock, providing more HP.
Flat Dish diameter is approximately 53mm with a depth of approx 5mm resulting in a 9cc dish. These super quality cast pistons have been used in many race motors and work just as well in a supercharged application. A crown thickness of over 6.5mm allows for safe further modification. Overall piston height from bottom of skirt to top of piston is 58.6mm.
1350cc = 72.5mm This is the ideal size for any 1275cc block with tappet covers on the rear. Results in an overbore of approx. .075"
1370cc = 73mm This is results in an overbore of approx. .095"
1380cc = 73.5mm This is results in an overbore of approx. .120"
1380cc (AE) Pistons
For the ultimate in engine performance these pistons installed in a 1275cc block will blow your doors off! What ever the magic, we all know you can't beat cubic inches for performance and the A-Series block can be bored far bigger than the factory ever imagined. The stock bore is 70.6 millimeters, the 1380 bore is 73.5 mm. This is .120" oversize and still leaves room in the block to go to 74mm.
The 73.5mm piston set from Hepolite are great for street and mild racing.

998cc Pistons
The latest design of pistons from AE for the 998cc motors are very good. All the latest improvements in manufacturing have been incorporated. And with the advancement in technical understanding of what makes a good piston, these are actually very good. These pistons are ideal for upgrading a 948cc Sprite/Midget/Morris block to higher capacity!
20773 (AE) Pistons
These are 998cc dished pistons and best suited for any street application. Using these will probably result in about 8.5:1 compression depending on the cylinder head. Available in standard, +.020 or +.040 sizes.
22463 (AE) Pistons
These are flat top 998cc pistons designed for use with press fit wrist pins.
BIG BORE 998cc Pistons
The 998cc engines are one of the best motors built by the factory. They are long lasting and economical but now you can extend their life even further and still gain the advantage of added performance with Big Bore options.
RE-A1118 998cc Pistons
Russell Engineering pistons, available in +.020, +.040, +.060, +.080 sizes.