Rebuilding A Sprite / Midget 1275 Ribcase Transmission - Video
Did you know that we rebuild your old ribcase tranmission from your Sprite or Midget and if you send us your core you get a discount? Then once we do our magic, we'll ship it back you in better than factory condition! Email or call us with any questions or if you have requests for a special build - whether it's transmissions, differentials or engines..
Check out this YouTube video on how we ship out our gearboxes and some tips on how to ship yours back to us.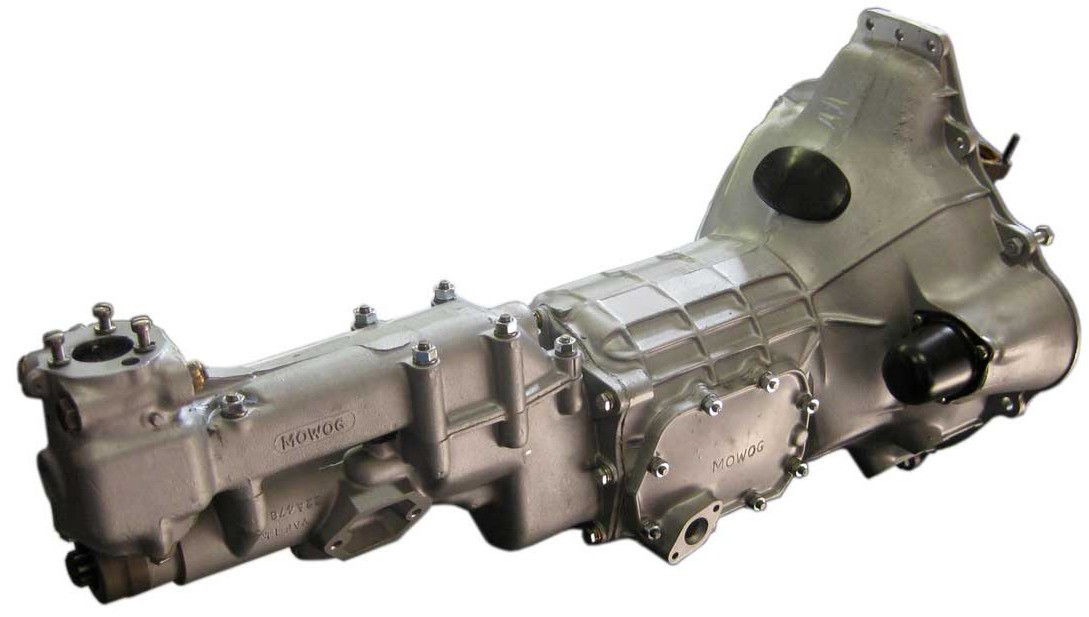 About Transmission Rebuilt 1275 Ribcase, Sprite & Midget
The ribcase gearbox is the strongest of boxes for the Sprite, Midget and Morris Minors application. These boxes use real bearings in all the critical places (in contrast to the 'smooth case' box that uses simply bushes). The ribcase box can be one of the most dependable parts of your car. (Remember: it runs straight 30wt motor oil for lubrication- not gear oil).

The ribcase is a direct replacement for the smooth case of old and will provide a much improved gear ratio set. The first gear is taller and thus much more comfortable and usable to drive. Stop believing that every Ribcase will pop out of second gear!

We believe the reputation of the Spridget gearbox has been severely hurt by rebuilders that don't know how to do it right! All of our gearboxes are built in house! We even disassemble those we might buy as rebuilt from the UK and FIX them right! Our gearboxes are Guaranteed to be good and NOT to pop out of second gear! These are sold with a core charge to ensure our supply of ribcases to rebuild.

You might also consider our rebuilding service if you have the time. The standard service requires that you send us your gearbox (easily shipped by UPS), we do a complete inspection and provide a quote for rebuilding it.
Returned Core must be Ribcase to qualify.

And for more information about Rebuilding Your Sprite or Midget Transmission check out these articles:
VIDEO TRANSCRIPT OF "RIBCASE GEARBOX REBUILD" by SpridgetMania.com
Hi gang its Brendon from Spridget Mania and today we're gonna go over the ribcase gearbox, and this right here is a core, as you can see.
I just wanted to let you know that we rebuild these and you can send us your core or you can have us rebuild you one from many of the cores that we have. We then go through your gearbox and can basically give it back to you as slightly better than factory.
You know, these gearboxes are a bit maligned and people tend to think that they're unreliable but if you rebuild these gearboxes correctly they'll give you years and years of trouble-free service. And that's a great thing when you consider that the Datsun five-speed is a much more expensive option and it's getting harder and harder to find.
But at SpridgetMania, we have all kinds of spare parts, we have the experience to be able to put these gearboxes together so that that will last you. We go through them very carefully, we test and inspect them and run them through the gears. We replace all of the worn parts and then you get a gearbox that is basically just like it was when the car was new.
So what I'm gonna do is, I'm gonna go over some of the features that the gearboxes and some of the things that we do, so that when you get your gearbox it's going to last you for a good long time.
One of the things that we do is we have the tail housing section, and of course, we install a new Bush in the back of that. We actually have a yoke that we have out of a drive shaft and we can put that in there.
We can check that for true and get these to where that there's virtually no play in them at all. After we've checked those of course, we then can install the new rear seal like we've done on this one. That's just about to get hooked up to this gearbox right here and then of course on the other end, on the front end, we have the new covers which have an area that's machined to accept the new rubber seal. So you get sealed up on both sides both where you get leaks. We do everything we can to mitigate that as best we can.
Then of course, here's a shot of the inside of the gearbox, and of course everything has been replaced. Any of the worn forks are either replaced with, you know, perfectly good used or new parts.
We even have the ability to take some of the original main shafts and you know, and you know this area that rides on the bearing, eEven if there's one where the hardened surface where it rides well on the bearing is bad we can have these actually received we can have them re-- tipped so basically we can have you know main shafts that are effectively brand new.
So that's another thing that we're able to do and we basically can get your ribcase gearbox back to basically anew condition if not better.
I think that they're probably better than they were when they left the factory,
So you can send us your old gearbox as a core and we can either rebuild that specific box or you can just have us build you one. We can do straight cut gear sets or we can do the traditional 22G1100 gear set in these gearboxes. Really anything you want us to-do.
Give us a call, or come to the website and send us a chat and we'll take care of all of your Sprite for speed ribcase gearbox needs.


VIDEO TRANSCRIPTION FOR PACKING YOUR RIBCASE GEARBOX FOR SHIPPING


This is a good way to box up the ribcase gearboxes. We've got a cardboard box here, it's a double walled cardboard box and inside it you can see that we've got the rib case basically bolted to a 15 by 15 bit of plywood. There's a slight hole that's drilled in it because as you know the rib case input shaft will stick out so if you just you know either use a hole saw or a drill bit that's bigger than the input shaft diameter you just sort of mark it and you can just mount that up with some bolts to that and then that'll keep it steady in the box.
Then if you just support the rear end of it, we actually are shipping this one out and we have a gear shift lever on it, so put a bit of cardboard around that. Then we're going to fill the bottom with all kinds of packing and it's going to go out in this box. The box is 16 by 16 by 36 and that seems to be a bit just about the right size for shipping one of these. If we send you one this is the way we're probably going to send it to you and if you want you can send your core back you might be able to use the same box and you could probably use the same piece of wood as well and you'll be all set so that's the way you want to do it.