60th Anniversary Mini Race Drivers

September 6th-8th, 2019
Portland International Raceway

---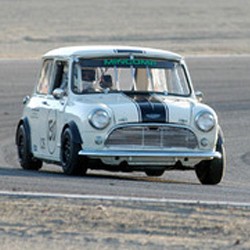 Rod Davis, #130
79 years old. Born in El Paso and moved to California in '66. San Diego at first and now Wildomar.
First race was November, 1958. Celebrated my 60th year Nov. 2018 with a 1st in class at Willow Springs in a Spec Miata.
Member of SCCA since 1967 (National license 1968). Member of VARA since 2001.
I am the VARA CS class champion for 2018 driving my 1963 Austin Cooper, #130 "Rusty Booger" the car I built in 2003.
I retired four SCCA lap records at RIR and Willow Springs (counter clockwise) in a Lotus Cortina.(now owned by my son).
Seven years driving instructor for Cal Club SCCA and one year for Roger Ward's CARS in the 80's.
Raced with, NHRA, AHRA, ASRA, FCCA, SCTA, HMSA, VARA, SVRA, CSRG, IMSA, VSCCA. SCCA and, FIA.
My plan is to make the Portland race, the CanAm Mini Challenge race my final race of my career……fingers crossed.

---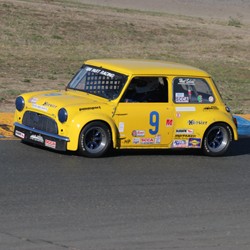 Jon Becker, #9
I am 72 years old and a resident of Martinez California. I am married to Dorothy and have 3 children. Since 1969 I have owned and operated a Mini Cooper repair and restoration business in Concord California. My wife and I currently own 5 street Minis, including a Moke and expect completion of a 64 Morris Mini Traveler by June.
I started racing in 1972 in a D sedan Mini. I have been fortunate to win 6 SCCA Regional Championships and 4 Divisional championships, all driving a Mini. I ave competed in 9 SCCA national championship races.
I won my first race in 1974 and as luck would have it the very next day the Mini was destroyed in a roll over during a 4 hour endurance race. My brother and I immediately began construction of my second racing mini. It was destroyed in 1976 also in a roll over. A third Mini race car was constructed in a month and I raced that car until 1987. That car logged over 150 races with several Regional and Divisional championships. In 1987 I purchased my current race car which had been the first Fortech Mini to win the SCCA national championship in 1984 with Doug Peterson driving. I have continued to race that Mini until the present time.
With the demise of the GT 5 class in SCCA the car was converted to run in H Production with corresponding downgrade in Brakes and Engine modifications. I have raced in that configuration since 2007, competing in Scca National Championship races at Laguna Seca and Sonoma as well as the 2017 Can-Am Mini Challenge race.

---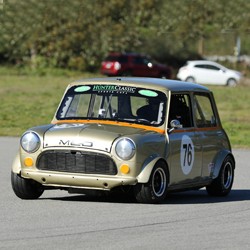 Trevor Sandham, #76

My name is Trevor Sandham
I am from vancouver B. C Canada.
I have just recently started racing 2019 is going to be my 3rd season. My dad Larry sandham has been racing minis since way before i was born and i am 37 now so i have been around minis my whole life. I have a very special mini cooper that was purchased in 1975 as a new shell and subframes from the UK and built into an autocross hillclimb car. So it had nwver been registered or driven on the street, the car had about 40 hours on it and its mint condition. I would say so far my favoritest racing moment so far was racing with my dad and are good friend Geoff Tupholme at the northwest historics in Seattle. For how long i watched my dad race it was special to be finally racing beside him.

---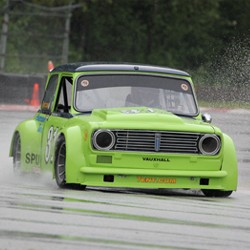 Larry Sandham, #30

Well I bought my first Mini …. A really nice 998cc Morris Cooper in May 1969. I immediately started competing in all sorts of events, gymkhanas, slaloms, sprints, speed trials, hillclimbs and the next year got started in road racing. So this is my 50th year in motorsport. I feel humbled competing along side Rod, Bob and Jon who have been doing this a heck of a long time too. Maybe we should have a 'Mini Seniors Class' as well … lol.
The chassis is one of the three second run of Mike's very successful Fortech series. It's pretty well the same spec as when I got it 25 years ago. I've upgraded the front brakes a couple of times and re-did the top arms. I originally had a 1380 in it for a couple years, but then I went crazy and put the Vauxhall 2 litre XE engine in it. It's got a lot more power of course but does pay a weight penalty as a result. One of the main reasons I went to the Vauxhall were reliability and cost. Heck the first engine had over 200hp and it only cost $7500! Although I think I need 25 of those extra ponies just to drive the Clubman nose through the air.
I want to thank the organizers for letting a non 'A' series car like mine run. It would be nice if there were a few others to add a bit more diversity to the field but I'm guessing I'll be the only one. I've seldom run enough events to qualify for a championship but I get lots of events in each year, having run over 600 to date.
---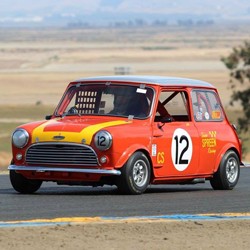 Parker Johnstone, #12

Our Fortech Racing Mini will be driven by Parker Johnstone at the Portland Mini Race. Parker Lives in Wilsonville, Oregon. He is the owner of Parker Johnstone's Wilsonville Honda.


Parkers racing record. https://en.wikipedia.org/wiki/Parker_Johnstone.
1985 IMSA Renault Cup National Champion, 1986 SCCA GT4 National Champion driving for Honda, 1987 & 1988 IMSA International Sedan Champion driving for Honda/Acura, 1987 Pro Atlantic Rookie of the Year, 1991, 1992, and 1993 IMSA GTP Camel Light Champion driving Comptech Acura Spice, 2-time winner of the Daytona 24 hour race, Sebring 12 hour race, Suzuka 1000KM race, IMSA record holder with 54 wins and most consecutive pole positions (14).
The Mini is the 1970 SCCA National Champion driven then by Ed Spreen. Prepared by owner Michael Kearney at Fortech Racing, racing Mini's for 45 years.
---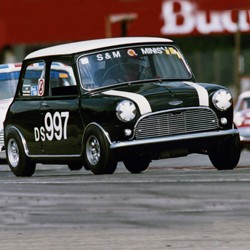 R.J. McConnell, #997

Randy McConnell bought his first Mini in 1967, a 1962 Austin Cooper 997 that he still has. In the following 52 years he has driven over 100,000 miles in Minis, participated in 18 Mini Meets on both coasts, and competed in over 100 autocrosses, 81 vintage races, nine NHRA sanctioned drag races, and four speed trials on the Bonneville Salt Flats. The speed trials included setting a record in a Mini co-sponsored by Mini Mania. Randy has competed in nine of the special Mini vintage races held since 1992 and for the 60th Anniversary race Randy will drive a 1962 Austin Cooper that he has owned since 1977.
---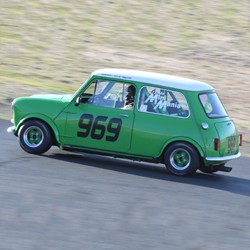 Julie Racine, #969
In 1996 I was given an opportunity to drive a Mini in the CSRG Reno Hilton/Buick Vintage Grand Prix. This was my first official racing event besides all the Mini Meet Autocrosses and a driving school at Sears Point in the famous Monte Mini. I was driving a white Mini that a business partner of Mini Mania brought up from Colorado and needed a driver. I was very happy finishing the race in the middle in the pack. I had such a blast which fueled my racing bug.

---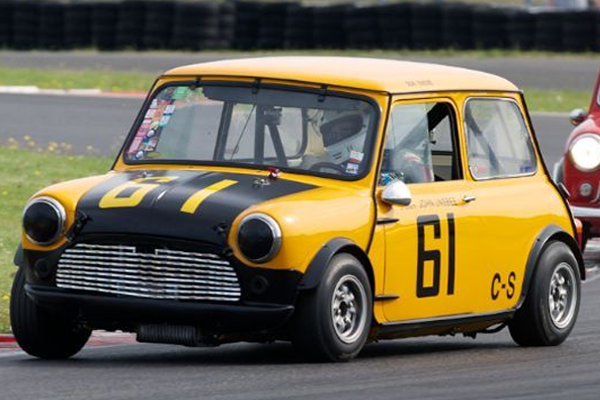 Don Racine, #61

Don Racine was born in York, Pa, in 1945. He began racing a Porches 356 in the North East in the mid '60s. After moving to California to pursue his career in Television Engineering he switched to racing a Mini Cooper. Shortly thereafter he started his business Mini Mania. While always returning to the Mini marquee Don has taken the opportunity to race many types of cars over the years: Everything from Sports Racers, Sedans, Formula Cars, Flat head Specials, H-Mods & production cars. He has raced at 30+ tracks around the world from the East to the West coast, from the UK and Japan to Australia.
Don's business Mini Mania continues today as a leading supplier of Restoration and performance parts for both the original Classic Mini and now the new generation BMW MINI Cooper. The now Internet based business operates from their headquarters in Nevada City California.
The Team Mini Mania racing tradition continues to be rejuvenated with the Team of his son Dennis, his daughter Julie and son-in-law John all racing classic Minis for Team Mini Mania.
---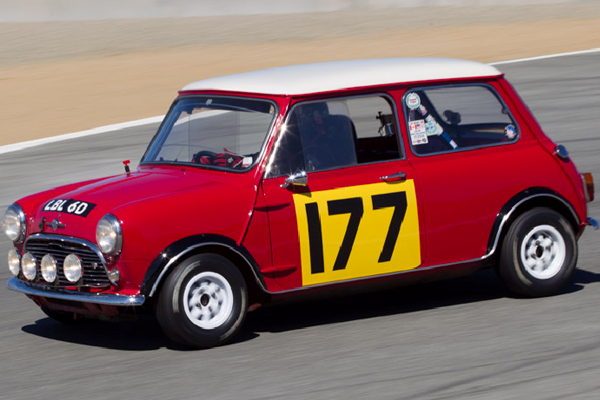 Dennis Racine, #177
Dennis Racine, Son of Don Racine was Born in Maryland in 1967, but grew up in California, started racing go-karts before he was 16, then moved to autocross once he got his licence. Started some vintage racing in the early 90's and then move to 'full time' vintage racing the Monty Mini in 2007. Since then has competed in over 75 vintage race events, finishing 3rd in the 2014 Can-Am Race (M2 Class), and first in the 2017 Can-Am (M2 Class). Favorite Track is Sonoma Raceway, Calif. Has driven at: Sonoma Raceway, Laguna Seca, Thunderhill Raceway, Button Willow, Portland International Raceway, Pacific Raceway, Fernley Raceway, Pueblo Motorsports, Hallet Raceway, Ciruit of the Americas (COTA), Texas Speedway, Mid-Ohio, Blackhawk Farms, Lime Rock, Walkins Glenn, Pittsburg International Raceway, Pittsburg - Schnley Park, Coronado AirForce Base.
Dennis has also done extensive coaching with the HOD driving school.

---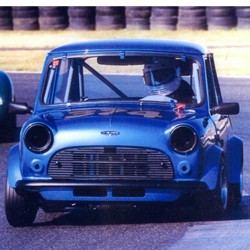 Brian Waters, #39

My love of Minis began in 1965 while I was in high school. I have always enjoyed working on Minis but did not get serious until I retired from teaching in 2001.

I started my business, BWR Motorsport, to develop and supply custom A Series race engine components. I began racing in 2002, and have been racing with SOVREN, SCCA, and SVRA ever since. The first race Mini I built is now owned by Steve Phillips. This car is a very successful and competitive Mini.

My wife Michelle is also a Mini enthusiast, and is my very capable pit chief at the races. For the 60th Anniversary Race I will be driving a new race Mini that I am just completing.... I hope it performs even better than my first car! I am really looking forward to seeing all the drivers and race Minis in September at my home track, PIR.
---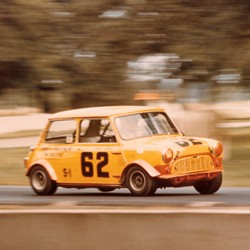 Randy Unsbee, #62
Randy Unsbee drove his first quarter midget at age 3 years, 11 months and won his first of over 100 races beginning at the age of four. He had to wait until age 21 to begin sports car racing in a Mini Cooper, where he was undefeated for two seasons. After 43 years he is reuniting with the same Cooper 'S' he raced in the 1970s. Randy scored back to back titles and 18 straight victories as part of the three-car Peterman Unsbee Racing Enterprises (PURE) team that was prominent at many circuits across the Midwest. Don Racine of Mini Mania now owns two of the three team Minis that were Randy's and his brother's. Randy campaigned the #62 car from 1972-1976 winning a grand total of over two dozen championship races at eight race tracks in seven states with the Midwest Council and SCCA. He then moved onto a race-winning career in formula, sports racer, production, and touring sports car racing, and more recently won four more SCCA championships between 1999 and 2010 at Portland International Raceway. The #62 story is featured in the May 2019 issue of "Victory Lane" magazine. https://www.minimania.com/Tale_of_Two_Mini_Racing_Families

---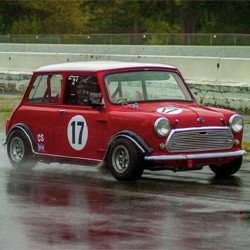 A.J. Johnston, #17
Hello, My name is A.J. Johnston, I have been racing vintage cars and go karts off and on since 2000. My first race car was a 1969 Datsun 510 that I shared with my Dad until he passed away in 2001. Sold the car to finish college at WSU. "GO COUGS"... Just purchased EVIE 2 years ago and made it through two races last year. Have always loved original Mini's and very happy to participate in the Mini 60... these cars are so much fun to drive and everyone loves them. Evie has been a race mini for many many years before I got her and I was told by the previous owner Joe Stone it was actually raced in the support races for the Tacoma Grand Prix back in the 80's...

---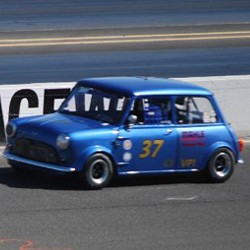 Steve Phillips, #37

I started racing SCCA in 1976 in a HP Sprite for years, then ran a year in Renault Alliance Cup Series and then on to IMSA in the BF Goodrich TA Tire Series in a Mazda RX3. I became fascinated with Mini's back when racing the Sprite, as remembering racing at Laguna Seca on the old track where I would be flat out on the back straight away heading for the bridge to go up the hill and glancing back and seeing the Fortech Mini driven by Doug Peterson off in the distance and by the time I was setting up to go up the hill, here comes Doug flying by me on the inside going up hill. At that point I was determined to get into a Mini. So years went by and I bought a Cooper S street car that I wanted to build for SCCA D Sedan, but in the process, they changed the rules to make the Mini now reclassified into GT5 so the price tag would have went up substantially, so I decided to restore the car as a street car, worth alot more money in the long run.
So many years went by and I got the bug to race again, so I acquired Brian Water's Blue Mini in about 2005, and have been developing and racing the car with VARA and SCCA ever since.
This will be my 4th Mini Challenge to race in. It will be a very significant race for me as I will be racing against the newly finished Sister Car to mine, driven by long time Mini Builder/Racer and head of BWR, Brian Waters. This will be a Challenge definitely!

---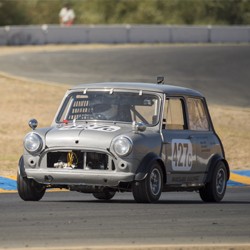 Bruce Houlden, #427

I have been playing around with Minis since the mid-80s, and used a Mini as my daily driver all through university. I started going faster than the local speed limit when I discovered local autocross competitions, and the fun of Mini meets. Soon afterward, I drove my Mini Automatic from Saskatchewan to Georgia and back and started to ice race Minis in Regina and Saskatoon. I started road racing in a MG midget but my heart wasn't in it — once it broke, I built a true vintage race Mini and it's been true love ever since. I raced at the Can-Am Challenge in Mid-Ohio, where I broke down on last lap and finished last. I redeemed myself at the Can-Am challenge in Sonoma, where I captured third in my class. I hope to return to the podium again, but the cars and drivers get faster all the time!

---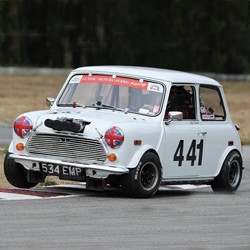 Geoff Tupholme, #441
Started racing Mini's in 2006. The car I am currently racing is one of my first cars when I was 16. I am currently 49 and live in Pritchard B.C. Canada, where pickups dominate the landscape. My daily driver was a Mini until about 15 years ago – kids, car seats, groceries and all.
My Dad used to race British cars in the UK and raced at Westwood here in Canada in the late 60's. That is where my interest in British cars came from. Being a heavy Truck Technician by trade I am teased by my co workers of repairing the largest vehicles on the road and race the smallest!
Mini's have always been my favorite. Starting with a stock 998 engine and making that as radical as I could, to building my current 1275 engine with an 8 port configuration. Minis are like wrestling a Bear cub in a phone booth, but once you have driven one you will understand why we all love them.
Racing history goes as follows: 2009 Brainerd Minnesota Can-am Challenge, 2011 Laguna seca(Mazda raceway), 2014 Mid Ohio Can-am, 2017 Sonoma California Can-am. In between those milestone races, I have raced at My home track in Mission B.C., Knox mountain Hill climb, Seattle PNR, and Portland. Hopefully many more!
Our Mini Family is very special to us. It is humbling to be able to race with people that have mentored us being the younger generation. We would like the thank the organizers of these Major events and hope there will be more to come
Cheers Mini441
---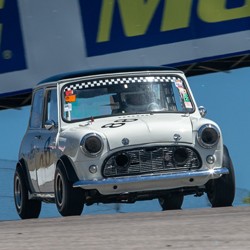 Greg Wold, #88
No bio yet..

---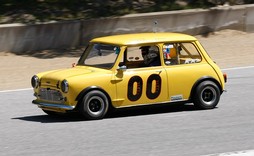 John Burmann, #00
I started attending NASA driving schools at Thunderhill and Sears Point Raceways back in 1995. Later in 2009 my wife Julie Racine and I wanted to start vintage racing with the rest of the family (Julie's Dad, Don Racine and her Brother Dennis). We both got the racing bug and started racing with the vintage race groups. My Father-in-law Don had a 1967 Sprite that was available for me to begin driving. I had a lot of fun but really wanted to be part of the Mini Group that my wife and family were driving. Don wanted to grow the Mini Mania presence and purchased a 1967 Mini to add to the team and was mine to drive. I continue to race in local Vintage race circuits, Julie and I race between 3-5 events per year. In 2017 I got 2nd place at the Can-Am Mini Challenge held at Sonoma Raceway. Also that same year Julie and I along with Don Racine purchased another Mini-Cooper to add to the Team Mini-Mania Race Team. I'm currently driving that car (1965 Austin Mini-Cooper #00) at vintage racing events. We all work together in the shop as a Big Happy Family.

---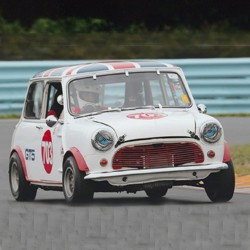 Mari Miller, #703
No bio yet..

---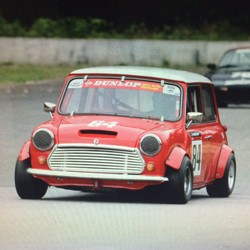 Karlos Flores, #84
No bio yet..

---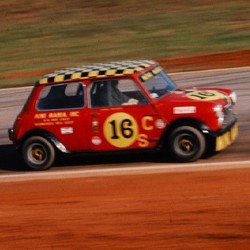 Mike Pinney, #16
No bio yet..
---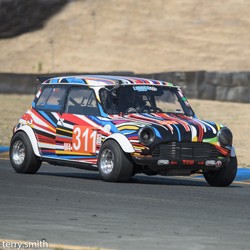 Robert Beauchemin, #331

Robert Beauchemin began racing in 1961 with a Volkswagon Beetle in Carbury Manitoba. When he moved to British Columbia he began racing the Pacific North West Circuit between 1966 and 1978. During this time he raced his Austin Mini Cooper S, a 1962 Corvette, A Lotus 23B, Morgan+8, Chevron B8 and a Honda Series. He then retired (mostly) to raise a family until 2001 when he travelled to Laguna Seca California to race his Austin Mini Cooper S. He raced this car until 2012 when he began building a mini sprint which won its first time out at the Mid-Ohio Raceway. Beauchemin has always ascribed to the "light is right" school of thought and is well known for his work with composites in building his cars. He has threatened to retire numerous times, but finds himself continually in an attitude of "just one more time"…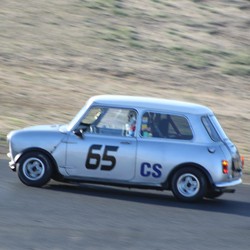 Brett , #65

No bio yet..
---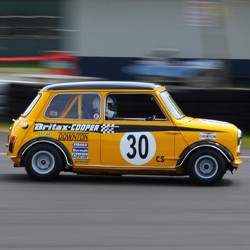 Scott Crawford , #30

He has been driving a Britax
Cooper tribute car for 18 years at tracks like Laguna
Seca, Sears, Buttonwillow, Thunderhill, California
Speedway, Phoenix International Raceway, Las Vegas
Road Course, Chuckwalla, and Pacific Raceways in
Seattle.


---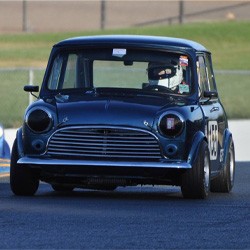 Rodger Soucy, #155
No bio yet..




Are you participating but not on the list?
Send us a photo of your Mini and include a short bio to be featured on the page! Email us at [email protected]