Mini Cooper Thermostat Housing
The Thermostat on the 2nd Generation MINIS is integrated into the housing. If you need a new thermostat, you have to replace the entire housing.
Due to some initial design issues, the Thermostat Housing has evolved through several iterations. The Temperature Sensor is also located on the housing, and can be removed on some versions of the housing, and molded into the housing on other versions. Since the wiring harness and the type of Temperature Sensor changed thru the iterations, the replacement Thermostat Housing (which may look different than the one on the car) may require a 'Wiring Adapter' in order for proper connection to the wiring harness on the car.
Below is a quick glance Chart that shows which replacement Thermostat Housings are correct depending on the production dates, and whether or not it will require a Wiring Adapter.
The alternative is to email us the last 7-digits of the vin number and we can identify the correct replacement thermostat housing and which if any adapter is required. ([email protected])
If you need to replace the engine coolant Temperature Sensor, read the information below the chart. Also see our MINI Thermostat Housing Swap Video below.
Bolts for Thermostat housing to cylinder head are torqued to 71 in-lb (INCH pounds).
Below are two of the Thermostat Housing currently in use: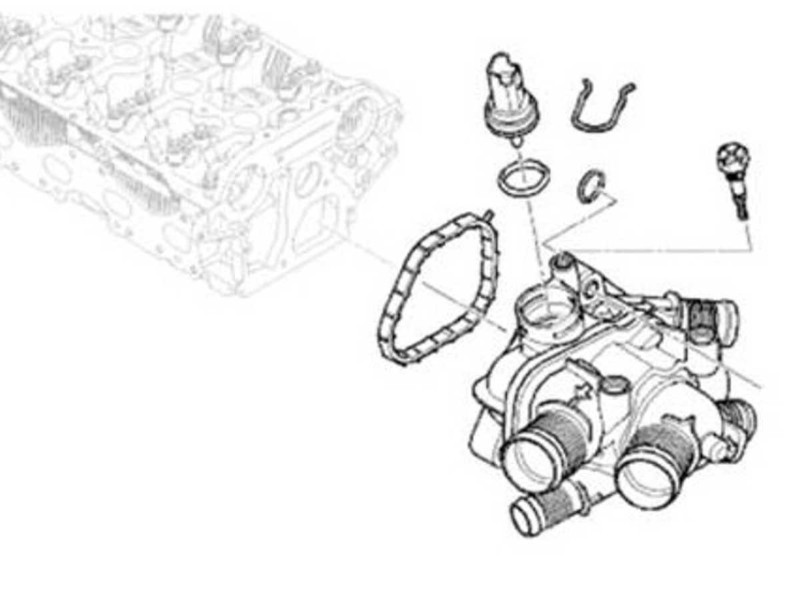 G2NME1125 - OEM Thermostat House for Gen2 R55-R61 2007-02/2013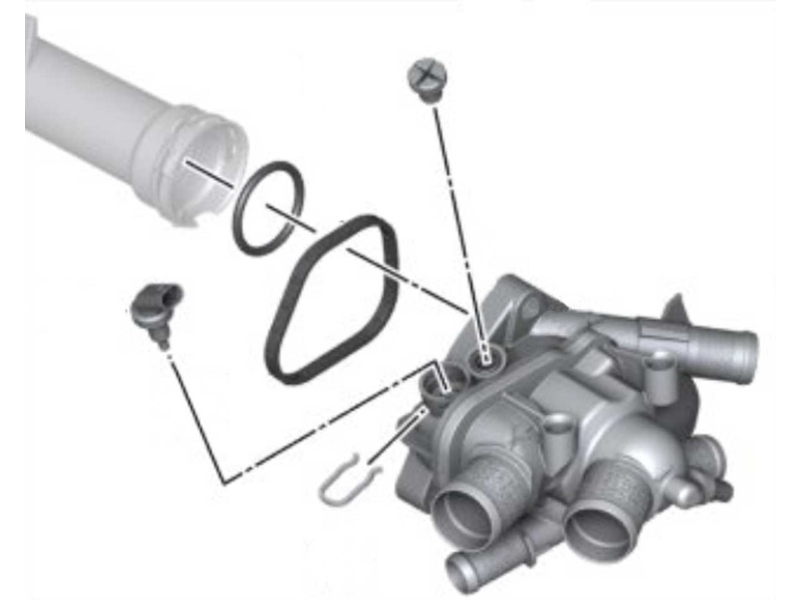 G2NME1129 - Mini Cooper Thermostat Housing Oem Gen2 R55-r61 2011+

For replacement temperature sensor on the thermostat housing, see Mini Cooper Coolant Temperature Sensor Gen2.
If your thermostat housing does not have a removable temperature sensor, see Mini Cooper Coolant Sensor Adapter with Harness Gen2.
THERMOSTAT HOUSING APPLICATION GUIDE:
MODEL AND BODY STYLE
ENGINE DESIGNATION
PRODUCTION DATES
HOUSING PART NUMBER
ADAPTER PART NUMBER
NOTES
FROM
UP TO
R55 Mini Cooper Clubman
N12
2008
2010
G2NME1125
R55N Mini Cooper Clubman
N16
06/2010
03/2012
G2NME1125
G2NME1140
R55N Mini Cooper Clubman
N16
03/2012
02/2013
G2NME1125
R55N Mini Cooper Clubman
N16
02/2013
G2NME1129
R55N Mini Cooper Clubman
N16
06/2010
G2NME1125
R55N Mini Cooper Clubman
N16
08/2010
03/2012
G2NME1145
Adapter for original Thermostat Housing
R55 Mini Cooper S Clubman
N14
2008
2010
G2NME1125
R55N Mini Cooper S Clubman
N18
2011
03/2012
G2NME1128
superceded to G2NME1129
R55N Mini Cooper S Clubman
N18
2011
07/2012
G2NME1128
superceded to G2NME1129
R55N Mini Cooper S Clubman
N18
2011
07/2012
G2NME1129
G2NME1141
R55N Mini Cooper S Clubman
N18
07/2012
02/2013
G2NME1129
G2NME1142
R55N Mini Cooper S Clubman
N18
02/2013
05/2016
G2NME1129
R55N Mini Cooper S Clubman
N18
08/2010
03/2012
G2NME1145
Adapter for original Thermostat Housing
R55 Mini Cooper S JCW Clubman
N14
2008
06/2010
G2NME1125
R55 Mini Cooper S JCW Clubman
N14
06/2010
03/2012
G2NME1125
G2NME1140
R55 Mini Cooper S JCW Clubman
N14
03/2012
G2NME1125
R55N Mini Cooper S JCW Clubman
N14
06/2010
G2NME1125
R55N Mini Cooper S JCW Clubman
N14
06/2010
03/2012
G2NME1125
G2NME1140
R55N Mini Cooper S JCW Clubman
N14
03/2012
G2NME1125
R55N Mini Cooper S JCW Clubman
N14
07/2012
G2NME1129
G2NME1141
R55N Mini Cooper S JCW Clubman
N14
08/2010
03/2012
G2NME1145
Adapter for original Thermostat Housing
R55N Mini Cooper S JCW Clubman
N18
07/2012
02/2013
G2NME1129
G2NME1142
R55N Mini Cooper S JCW Clubman
N18
02/2013
05/2016
G2NME1129
R55N Mini Cooper S JCW Clubman
N18
08/2010
03/2012
G2NME1145
Adapter for original Thermostat Housing
R56 Mini Cooper Hardtop
N12
2007
2010
G2NME1125
R56N Mini Cooper Hardtop
N16
06/2010
G2NME1125
R56N Mini Cooper Hardtop
N16
06/2010
03/2012
G2NME1125
G2NME1140
R56N Mini Cooper Hardtop
N16
03/2012
02/2013
G2NME1125
R56N Mini Cooper Hardtop
N16
02/2013
G2NME1129
R56N Mini Cooper Hardtop
N16
08/2010
03/2012
G2NME1145
Adapter for original Thermostat Housing
R56 Mini Cooper S Hardtop
N14
2007
2010
G2NME1125
R56N Mini Cooper S Hardtop
N18
2011
03/2012
G2NME1128
superceded to G2NME1129
R56N Mini Cooper S Hardtop
N18
2011
07/2012
G2NME1128
superceded to G2NME1129
R56N Mini Cooper S Hardtop
N18
2011
07/2012
G2NME1129
G2NME1141
R56N Mini Cooper S Hardtop
N18
07/2012
02/2013
G2NME1129
G2NME1142
R56N Mini Cooper S Hardtop
N18
08/2010
03/2012
G2NME1145
Adapter for original Thermostat Housing
R56 Mini Cooper S JCW Hardtop
N14
2008
06/2010
G2NME1125
R56 Mini Cooper S JCW Hardtop
N14
03/2012
G2NME1125
R56 Mini Cooper S JCW Hardtop
N14
06/2010
03/2012
G2NME1125
G2NME1140
R56N Mini Cooper S JCW Hardtop
N14
06/2010
G2NME1125
R56N Mini Cooper S JCW Hardtop
N14
06/2010
03/2012
G2NME1125
G2NME1140
R56N Mini Cooper S JCW Hardtop
N14
07/2012
G2NME1129
G2NME1141
R56N Mini Cooper S JCW Hardtop
N14
08/2010
03/2012
G2NME1145
Adapter for original Thermostat Housing
R56N Mini Cooper S JCW Hardtop
N18
07/2012
02/2013
G2NME1129
G2NME1142
R56N Mini Cooper S JCW Hardtop
N18
03/2012
G2NME1125
R56N Mini Cooper S JCW Hardtop
N18
08/2010
03/2012
G2NME1145
Adapter for original Thermostat Housing
R57 Mini Cooper Convertible
N12
2009
2010
G2NME1125
R57N Mini Cooper Convertible
N16
06/2010
G2NME1125
R57N Mini Cooper Convertible
N16
02/2013
05/2016
G2NME1129
R57N Mini Cooper Convertible
N16
08/2010
03/2012
G2NME1145
Adapter for original Thermostat Housing
R57 Mini Cooper S Convertible
N14
2009
2010
G2NME1125
R57N Mini Cooper S Convertible
N18
2011
03/2012
G2NME1128
superceded to G2NME1129
R57N Mini Cooper S Convertible
N18
2011
07/2012
G2NME1128
superceded to G2NME1129
R57N Mini Cooper S Convertible
N18
2011
07/2012
G2NME1129
G2NME1141
R57N Mini Cooper S Convertible
N18
07/2012
02/2013
G2NME1129
G2NME1142
R57N Mini Cooper S Convertible
N18
02/2013
05/2016
G2NME1129
R57N Mini Cooper S Convertible
N18
08/2010
03/2012
G2NME1145
Adapter for original Thermostat Housing
R57 Mini Cooper S JCW Convertible
N14
2009
06/2010
G2NME1125
R57 Mini Cooper S JCW Convertible
N14
06/2010
03/2012
G2NME1125
G2NME1140
R57 Mini Cooper S JCW Convertible
N14
03/2012
G2NME1125
R57N Mini Cooper S JCW Convertible
N14
06/2010
03/2012
G2NME1125
G2NME1140
R57N Mini Cooper S JCW Convertible
N14
03/2012
02/2013
G2NME1125
R57N Mini Cooper S JCW Convertible
N14
08/2010
03/2012
G2NME1145
Adapter for original Thermostat Housing
R57N Mini Cooper S JCW Convertible
N14
07/2012
G2NME1129
G2NME1141
R57N Mini Cooper S JCW Convertible
N18
07/2012
02/2013
G2NME1129
G2NME1142
R57N Mini Cooper S JCW Convertible
N18
02/2013
05/2016
G2NME1129
R57N Mini Cooper S JCW Convertible
N18
08/2010
03/2012
G2NME1145
Adapter for original Thermostat Housing
R58 Mini Cooper Coupe
N16
06/2010
03/2012
G2NME1125
G2NME1140
R58 Mini Cooper Coupe
N16
03/2012
02/2013
G2NME1125
R58 Mini Cooper Coupe
N16
02/2013
05/2016
G2NME1129
R58 Mini Cooper Coupe
N16
08/2010
03/2012
G2NME1145
Adapter for original Thermostat Housing
R58 Mini Cooper S Coupe
N18
07/2012
G2NME1128
superceded to G2NME1129
R58 Mini Cooper S Coupe
N18
07/2012
02/2013
G2NME1129
G2NME1142
R58 Mini Cooper S Coupe
N18
02/2013
05/2016
G2NME1129
R58 Mini Cooper S Coupe
N18
08/2010
03/2012
G2NME1145
Adapter for original Thermostat Housing
R58 Mini Cooper S JCW Coupe
N14
06/2010
03/2012
G2NME1125
G2NME1140
R58 Mini Cooper S JCW Coupe
N14
03/2012
G2NME1125
R58 Mini Cooper S JCW Coupe
N14
2012
07/2012
G2NME1129
G2NME1141
R58 Mini Cooper S JCW Coupe
N14
08/2010
03/2012
G2NME1145
Adapter for original Thermostat Housing
R58 Mini Cooper S JCW Coupe
N18
02/2013
05/2016
G2NME1129
R58 Mini Cooper S JCW Coupe
N18
08/2010
03/2012
G2NME1145
Adapter for original Thermostat Housing
R59 Mini Cooper Roadster
N16
06/2010
03/2012
G2NME1125
G2NME1140
R59 Mini Cooper Roadster
N16
03/2012
02/2013
G2NME1125
R59 Mini Cooper Roadster
N16
02/2013
05/2016
G2NME1129
R59 Mini Cooper Roadster
N16
08/2010
03/2012
G2NME1145
Adapter for original Thermostat Housing
R59 Mini Cooper S Roadster
N18
2012
07/2012
G2NME1128
superceded to G2NME1129
R59 Mini Cooper S Roadster
N18
2012
07/2012
G2NME1129
G2NME1141
R59 Mini Cooper S Roadster
N18
07/2012
02/2013
G2NME1129
G2NME1142
R59 Mini Cooper S Roadster
N18
02/2013
05/2016
G2NME1129
R59 Mini Cooper S Roadster
N18
08/2010
03/2012
G2NME1145
Adapter for original Thermostat Housing
R59 Mini Cooper S JCW Roadster
N14
06/2010
03/2012
G2NME1125
G2NME1140
R59 Mini Cooper S JCW Roadster
N14
03/2012
G2NME1125
R59 Mini Cooper S JCW Roadster
N14
2012
07/2012
G2NME1129
G2NME1141
R59 Mini Cooper S JCW Roadster
N14
08/2010
03/2012
G2NME1145
Adapter for original Thermostat Housing
R59 Mini Cooper S JCW Roadster
N18
02/2013
05/2016
G2NME1129
R59 Mini Cooper S JCW Roadster
N18
08/2010
03/2012
G2NME1145
Adapter for original Thermostat Housing
R60 Mini Cooper Countryman
N16
06/2010
G2NME1125
R60 Mini Cooper Countryman
N16
06/2010
03/2012
G2NME1125
G2NME1140
R60 Mini Cooper Countryman
N16
03/2012
02/2013
G2NME1125
R60 Mini Cooper Countryman
N16
02/2013
05/2016
G2NME1129
R60 Mini Cooper S Countryman
N18
2011
03/2012
G2NME1128
superceded to G2NME1129
R60 Mini Cooper S Countryman
N18
03/2012
07/2012
G2NME1128
superceded to G2NME1129
R60 Mini Cooper S Countryman
N18
2011
07/2012
G2NME1129
G2NME1141
R60 Mini Cooper S Countryman
N18
07/2012
02/2013
G2NME1129
G2NME1142
R60 Mini Cooper S Countryman
N18
02/2013
05/2016
G2NME1129
R60 Mini Cooper S JCW Countryman
N18
02/2013
G2NME1129
R61 Mini Cooper Paceman
N16
03/2012
G2NME1125
R61 Mini Cooper S Paceman
N18
02/2013
G2NME1129
R61 MINI Cooper S JCW Paceman
N18
02/2013
G2NME1129