This is presented for historical information only- ALL 1275cc 1990 onwards, with the 190mm clutch plate, now use the GCK152AF

Verto Clutches - Alternatives and differences.

This article has been written owing to the increasing amount of people who ring Mini Spares stating that their 1275cc Injection type Mini will not start after fitting a new clutch, especially when they have purchased the parts from another supplier, usually a motor factoring company, rather than a Mini specialist. There are 2 types of Pressure plates, namely AP (Automotive Products) and Valeo.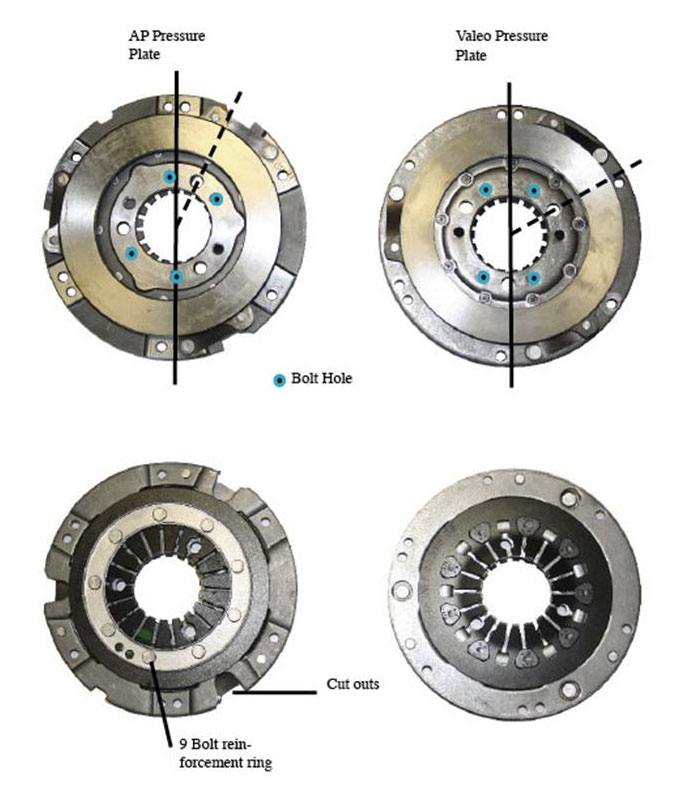 AP type pressure plates CANNOT be fitted to any original Injection engine Austin Mini flywheels as they will be out of position when bolted to the centre hub cone (held on by 6 bolts)

VALEO pressures are made to fit ALL original Injection engine flywheels but will also fit any earlier Carburetor versions as the pick up for the ECU is not used..

Injection cars use a reluctor ring on the flywheel to trigger the sensors for the ECU and the Valeo pressure plate has the cone bolt holes in a different position to the AP pressure plate, so look at the chart to check what has come off your car and what is going back on.
Line up any of the 2 holes at the top and check with our chart to see how differently they are positioned.
The two different types look so different with the Valeo flywheel to pressure plate bolting rim perfectly flat whereas the AP is pressed with cut outs and a 9 bolt reinforcement ring.
The centre cone hub is the same on all cars.

Verto Clutch plate fitment is much simpler,
There are 2 widths-180mm wide and 190mm wide .
180mm wide was fitted to 998cc and 1275cc Metro.
190mm wide was fitted to 1275cc Mini from 1990 on.
The mating surface for the clutch plate on both the pressure plates are 190mm wide so if the flywheel is perfect either size plate would fit.

Our clutches are as follows
Classic Mini Clutch GCK151AF AP product with 180mm plate
GCK151MS Valeo product with 180mm plate
Classic Mini Clutch GCK152AF Valeo product with 190mm plate.

The 190mm Valeo clutch plate has the best friction surface-
AP pressures plates have the best clamping pressure but CANNOT be fitted to Injection cars unless a flywheel with a specially modified or repositioned reluctor ring is used.