HEAD TO HEAD, HISTORIC SPORTSCAR RACE

28-30 AUGUST 1992 MID-HIO RACETRACK, LEXINGTON, OHIO

Last year at Willow springs, California the gauntlet was thrown down by Mini Mania, USA, to see which was superior. The front wheel drive saloon, or the rear drive sports car.
When these cars were new there were very few organized races for them to compete against each other and the Sprite MK1 or Frogeye as we know it, because of its headlights mounted on the bonnet, only had a 948cc engine while the early Minis only had 848cc or 1275cc of the Cooper "S". Times have changed and most Frogeyes (called Bugeyes in the USA) now use1275cc blocks as do the later Sprites under current SCCA rules, which also allow so many other modifications that most Minis and Sprites in the USA SCCA resemble funny cars with tube frames, etc.

The only answer was vintage racing and this was why Mini Mania, USA, organized the first ever event at Willow Springs. Over 40 cars of every legal (and some illegal) configuration showed up. Some of the Sprites looked very quick and sure winners until the true race began where they failed to finish leaving the Minis first and second. The Minis were declared the winners, but the Sprite racers wanted another try to prove they were equal, if not better. This first race at Willow Springs included purpose built racers and modified street cars with safety equipment to make them race legal to compete, but the return race at Ohio was strictly for the serious minded, and provoked old owners and existing racers to protect the image of their particular marque.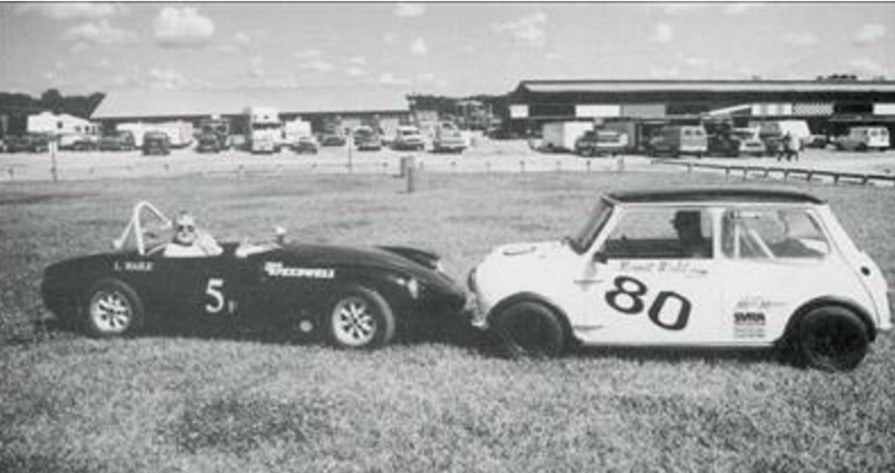 Don Racine of Mini Mania, California, once again sponsored this race and chose the location in Mid Ohio to enable competitors from all over USA and Canada to compete even though some had to travel from South California, Florida or Canada, which in some cases represented up to 40 odd hours towing the race cars or rigs.
Out of the 42 entrants, 18 were Minis with two true 998cc and one 970cc "S". There were 16 Bugeyes although some had Sebring or Speedwell fronts, and three still retained the original 948cc engine. There were 7 Midgets with one original 1098cc engine, the rest using 1275cc, as fitted when new on the later Sprites.
None of the 1275 cc engines were checked, but 1380cc was thought to be very common. Cylinder heads were Longman or USA tuners such as Dave Tabor from Comptune, using all sorts of valve sizes and shapes. Nearly every car used the Mini Spares hi-lift rockers, as roller types were not allowed. Camshafts were also very mixed with Elgin from USA being very prominent followed by Kent and Vizard. A few had their own profiles made to work even better with our hi-lift rockers. Carburation was mixed with twin SU or single 40/45 DCOE. Exhaust manifolds were almost totally Maniflow with all size of LBC and 3 into 1 configurations. Many of the cars had different types of belt drives, pulley systems and camshaft adjustable timing wheels (nearly all Mini Spares ST manufacture).
The gearboxes on the Sprites are still 3 synchromesh, but using straight cut gears whereas most of the Minis had upgraded to 4 synchromesh straight cut gears using Trannex or Salisbury limited slip differentials. The Sprites used either welded up diffs or a variation of limited slip differentials such as Trannex, Salisbury with one or two still using the Quaffe, type which is losing popularity.
If proof were ever needed that suspension tuning had to be set up to match driving styles – this was an ideal event. Cars set up with similar camber, castor, toe, anti roll bar etc. looked totally different on corners. Cars with absolutely wrong set ups could run with the fastest on the track; it makes you wonder how some would handle in the wet or how fast their lap times would be if set up correctly. Some Minis lifted rear wheels on corners really badly, because they had no rear anti roll bar (adds the seconds to lap times). The fastest Mini in practice driven by Brad Baker from Canada had its problems, but he was such a good driver that the rear wheel lift didn't seem to bother him, he was new to Minis so perhaps he thought it was normal. I suggested fitting a Mini Spares adjustable anti roll bar even knowing there were only 3 laps before the race to acquaint with the new handling characteristics it would provide, but having seen him drive, I knew he would cope. In the 3 practice laps the wheel certainly stayed down, but adjustments were needed to gain more stiffness for the race. The lap times did not improve but Brad felt more comfortable and with more control could only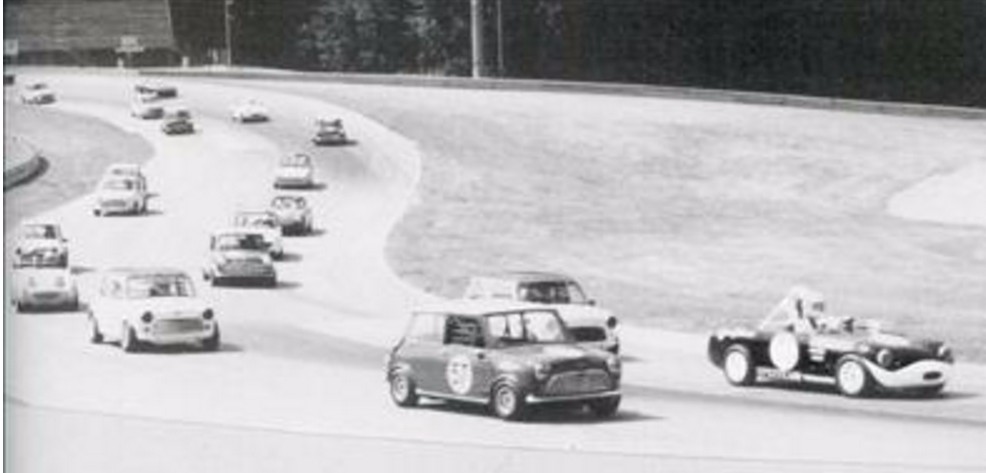 improve with further practice and suspension tuning. Every Mini seemed to use Hi-lo suspension whether it be front, rear or all round.
The fastest car of the event in both the race and practice was the 1959 Sebring Sprite driven by David Jahimak, from Wisconsin, who put in a 1.50.21 qualifying time beating Brad Baker by .37 of a second. The Sebring Sprite was very quick; it had a Comptune (Dave Tabor) Motor, using his own cylinder head and camshaft specifications with our hi-lift rockers. It seemed to have power at random, but the handling looked suspect, which I am sure must be frightening in the wet or in any other drivers' hands. David however drove the car with such aggression and knowledge of its capability that I thought it was one of the finest drives I have seen for years.
The frogeye Sprites were originally produced with quarter elliptic springs (looks like a spring cut in half) which always posed problems when suspension tuning or fitting wider wheels, but Mini Mania can now provide a replacement spring in fiberglass, half the width, much stronger and stiffer, which seems to be the Wizard part of the moment. These springs are commonly used in many forms of racing and are 100% safe and reliable.
Tire selection was easy – the people with money were on Dunlops and everyone else on Aa-008 Yokohama. Besides the obvious difference in cost the performances are more difficult to determine. Both suspension set up and driving style must be changed and many found this to too difficult to cope with and stuck to whichever tire they were happy with for the race itself. The Sebring was on Dunlop CRO70/65, while the second placed Minis (driven by Bob Tarzwell, who is known as a quick driver in the wet), bet on the rain that never came and could not keep up on his Dunlop rains. The next group of Minis were all on Yoko's, which included Dick Faille of Mini Mania East (USA) in his famous flying hoe box. Dick and Don Sobering from Ontario both started 34th and 35th respectively owing to mechanical problems during qualifying and tore through the pack often passing bemused competitors simultaneously on their side, which made the most exciting and inspiring part of the race, but nobody was going to catch the Sebring Sprite unless it rained. The Ohio track, which is one of the best in the USA reminded me of being back home with all the rolling hills and lush vegetation. The cold was not very harsh on brakes, but most cars now see to use the carbon metallic pads we introduced to England, although some are still loyal to DS11 material. The carbon pads really do stop the cars quicker but in hot conditions they cause such a buildup of heat, the Timken type wheel bearings knock out as the grease solidifies. Many of the racers now use the old roller type ball bearings, which have less contact are which reduces friction and allows the grease to cool quicker.
Having now covered the major components of the race cars with other details, my concluding thought was that every car was beautifully prepared and every owner took great pride in their machines. On a personal note, it gave me great pleasure to act as technical adviser to competitors and customers of Mini Mania East and West, who are Mini Spares agents. My thanks go out to all the competitors whose feedback on our Special Tuning parts help us to produce high quality race proven parts, which although tested the same way in England, have to put up with different requirements in the USA, where their advancement in camshaft and design ideas with enormously high poundage springs (over 265 LBC) play havoc with valve gear. Such extremes of heat can also intensify wear to engine and suspension parts alike.
The good news is that nearly all the competitors are using parts that originate from Mini Spars and we can feel justified in our pursuit of high quality well priced merchandise.
All of the top ten reported engine sizes as 1275cc except Don Sobering who indicated 1293cc.
Honours shared with five Minis and Sprites in the top ten, but honours this time going to the Sprites.
Length of trace 2.4 miles with 42 starters, length of race 19.2 miles
| | | | | |
| --- | --- | --- | --- | --- |
| Positions/Results | State | Year | Car Type | Fastest lap time |
| 1. David Jahimiak | Wisonisn | 59 | Sebring Sprite | 1.50.794 |
| 2.Brad Baker | Ontario | 67 | Austin Cooper | 1.51.589 |
| 3. Bob Tarzwell | Ontario | 64 | Austin Mini | 1.52.667 |
| 4. Rick Cook | Michigan | 60 | Frogeye Sprite | 1.52.291 |
| 5. Trent Terry | Illinois | 66 | MG Midget | 1.53.237 |
| 6. Dick Faille | Georgia | 61 | Austin Cooper | 1.51.169 |
| 7. Don Sobering | Ontario | 64 | Morris Cooper | 1.53.098 |
| 8. Greg Wold | Minnesota | 65 | Morris Cooper | 1.56.565 |
| 9. Larry Halle | California | 59 | Speedwell Sprite | 1.57.081 |
| 10.Robert Caro | California | 59 | Speedwell Sprite | 1.54.547 |