Money Saving Part Kits for Your Classic Mini
Here at Mini Mania you can save big by getting your parts in a money saving kit. We have hundreds of kits to choose from that will help you get your job finished. It's more convenient, more affordable and you're less likely to order the wrong part. It's a win, win, win!
Questions? We're happy to assist you! Our expert staff of specialists are available by phone at 1-800-946-2642 or through email.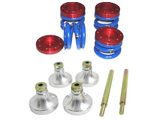 Blue Coil Spring Upgrade w/ Adjustable Hi/Lo Suspension
The stock Mini Cooper suspension if most often politely called stiff. With the very short wheel base and rubber cone suspension, it is hardly a real comfortable car to use daily. While it's not practical to change the wheel base, we can by using new technology coil springs make a noticeable improvement in ride comfort.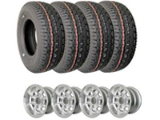 Set of 4 6x10 Minilight Wheels & Yokohama 165-70-10 Tires
If you are still running 10" wheels on your Mini you probably have thought more than once about those great looking 'Minilite' style wheels - but both the cost and the need to install flares have turned you off. Now is your chance to beat both of the problems. To top it off, this special offer includes a set of Yokohama A008 tires!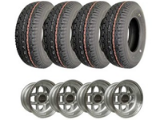 Set of 4 6x10 Mamba Wheels & Yokohama 165-70-10 Tires
This money saving set of 4 popular wheels and tires include the Mamba 6" wide wheel and the Yokohama 165/70-10" "A008" tires. The Mamba reproductions are highlighted by polished outer rims and a serpent logo on the center cap. These wheels come with chrome sleeve nuts. The A008 Yokohama 165/70-10" set the standard for a performance tires for the Mini that is DOT approved.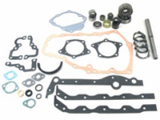 Transmission Gearbox Rebuild Kit for A+ Rod Change Box
In this kit you'll find the "wear" parts for the Do It Yourself A+ Rod Change Tranny rebuild. Kit includes: DAM3187=Layshaft, A+ 3-step, AAU1815=1st Gear Bearing, 4-Sync, ADU7619=1st Motion Bearing, Large, AAU8424=1st Motion Bearing, Outer, (2) AAU1816=2/3 Rd Gear Bearing, 4-Sync and more.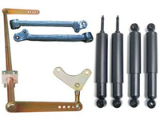 Handling Upgrade Kit
This basic handling upgrade kit adds 1.5 degrees of negative camber to the front of your Mini. The standard Mini under steers by design to keep average drivers from getting into trouble. By changing the stock 1/2 degree positive to about one degree negative camber, the cornering ability of your Mini will be greatly enhanced.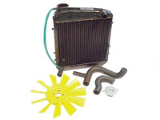 Super 2 Core Radiator, Cap, 11" Blade Fan & Hoses
When it comes to cooling a Mini, nothing beats the new design Super Two Core radiator. The radiator itself is made with a very dense core, same as used by Lotus. Dimensionally it is the same as a standard Mini radiator, making it a direct bolt-in replacement for one piece radiator shrouds. Earlier, 2-piece shrouds will need very minor modifications.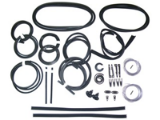 Mk I Body Rubber Kit
If you are painting your car you probably should consider replacing all the rubber seals on it. If the rubber is old, not only does it look terrible but it will probably crack when trying to remove it. If you are going to the trouble and cost of painting, do it right, replace the rubber! Our special kit includes everything you need!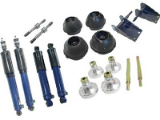 Hydrolastic Wet to Dry Conversion w/ Hi/Lo Suspension
The "wet" Mini is now over 30 years old and has probably developed a few problems with the Hydro system. The really bad news is that replacement parts can be nearly impossible to get and fixing one leak just means the next one will be in a different place! One final solution is to bite the bullet and go "Dry".


Pair of 8.4" Competition Rotors & Kevlar Pads
A common complaint of standard brake rotors is that they wear too fast. The wear is caused by grit getting caught under the pads and is amplified by the fact that the rotors are made of too-soft material. These heavy duty, competition rotors are of a higher grade steel. Also included are a pair of EBC Kevlar brake pads.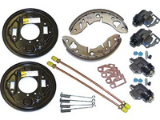 Twin Dual Leading Brake Shoe Kit
Most people who think drum brakes on a Mini are bad have never tried the "twin leading shoe" type as most commonly found on the Mini. Two main differences between the early standard single leading and the improved twin leading is the use of two separate wheel cylinders and the use of 1 1/2" wide brake shoes.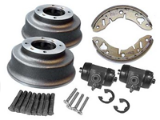 Big Drum Brake Kit for the Rear of All Minis
The rear brakes on all stock Minis or Mini Coopers (except the "S" and those with 8.4 front discs) have drums brakes that have no built-in spacers. If you're going to fit anything other than stock wheels then you may need spacers on the rear brakes to clear the shocks and trailing arms. The best solution is this Mini Mania "Big Rear Brake Kit"!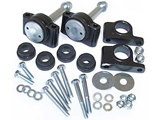 Rear Subframe Mounting Kit Including Trunnions
Rear subframe mounting kit comes complete, with bushes, support pins, mounting trunnions (later, stronger version), bolts, nuts, washers. Suitable for all Minis. Replaces the pre 1976 front trunnions and bushings with post 1976 type. This kit contains all the parts from MS43 plus the 4 cast trunnions that hold the rubber bushes.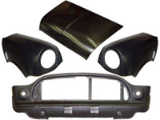 Front Sheet Metal Kit
The front sheet metal on the Mini (Mk I & Mk II) was never intended to be difficult to replace. Now you have the chance to have a complete set and at a very reasonable price as well. This special set includes both of the front fenders (left and right) , a complete nose panel and a bonnet. One of our best-selling sheet metal kits!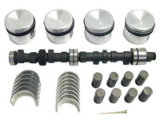 Do-it-yourself Kit - Big Bore 1380cc Engine
This is the ideal kit for the Do-It-yourself engine builder. Our special big bore kit for the 1380cc engine includes AE big bore pistons, our special 1380cc camshaft and lifters, +.020 main & rod bearings and the HIF44 needle that is ideal for the 1380cc engine! You provide the engine and remaining components.