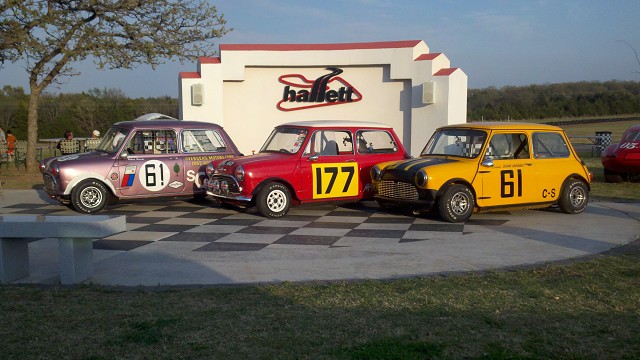 Vintage Racing at Hallett Motor Raceway
Vintage racing has very much been a part of the Racine's life style for quite a while. And now with the whole family racing, it's been even more special. We now field no less than for Minis out at the track.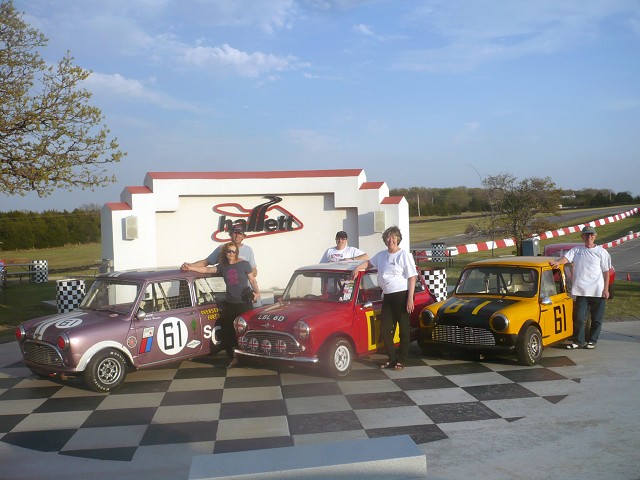 Last year Robert and Holly Hoemke brought their Mini Cooper and Formula Jr. out to California to race at the Sonoma Historics at Infineon Raceway and then down Laguna Seca for the Monterey Historics (now called the Monterey Motorsports Reunion). We instantly really hit it off with Robert and Holly and have been great friends ever since. As such we decided since the Hoemke's had made the trek out to California, that we should do the same, and plan a trip out to their local track, Hallett Motor Speedway.
We already had quite the schedule planned for 2011, with no less than fifteen plus events, but we were determined to make this trip. As it turned out, the first CVAR/Hallett event was the following weekend of our own local Vintage Race event put on by CSRG at Infineon Raceway. This meant we had to plan on two back-to-back race weekends, 2000 miles apart!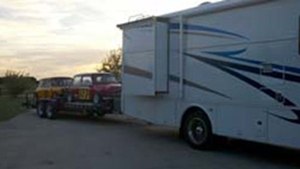 The plan, race Friday through Sunday at Infineon, return home Sunday night, condense our two RV's, enclosed race trailers and gear into one RV and two car open trailer, and be on the road to Oklahoma by Early Monday morning. This all of course hoping that we don't break anything at Infineon!
As it turned out I had a great race weekend with the Monty Mini, with only a few minor issues that were fixed in between sessions, and were able to go on to finish out in front on Sunday after having a great battle with our good friend Paul in his Elva Courier MKII.
We ended up getting home on Sunday night earlier than we had predicted but despite this, we still had a lot of work to do to get loaded and out the door on Monday, but managed to hit the road by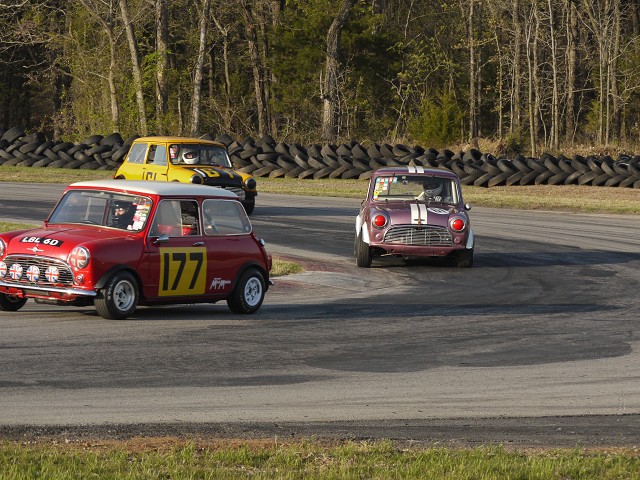 about 12:30 Monday and made Barstow, CA by about 8pm where we stopped for the night. The next two days were quite the challenge as the winds were gusting to over 50mph in parts, so it made for some white-knuckle driving for the both of us.
We rolled into Albilene, TX around 2 PM Wednesday where we met up with Robert and Holly and stayed at their place for night before heading out first thing Thursday Morning for the final leg of our trip.
Thursday afternoon we went for a 'walk' around the track for the first time on the back of Roberts Quad/ ATV. CVAR was set to run the track in reverse, which is a rare thing so there were plenty of people wanting to see the track for the first time in reverse, which probably helped us, since it created a somewhat level playing field of experience.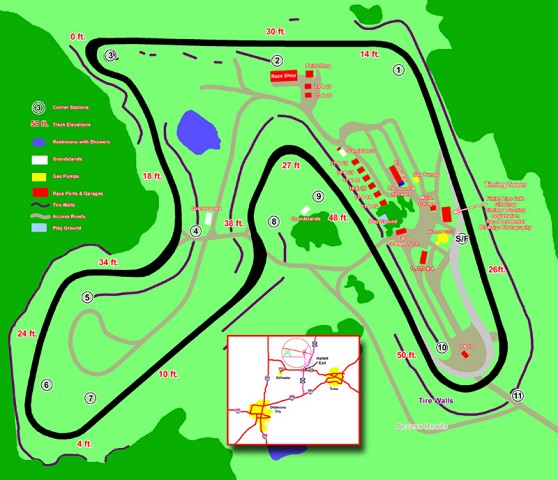 First impressions of the track surface were that there might be a few bumps here and there, but at the end of the day it wasn't bad at all. The layout was very 'busy' with lots of sharp corners, and in the reverse direction, a lot of really late apex's and blind corners. Tomorrow would tell.
Friday was a full day of practice, and boy did we get a ton of track time. I was sore by mid-afternoon and we still had several sessions left to be able to run! I found the track a lot of fun, but it was also a lot of work, and required a lot of concentration. I really enjoyed turn 2 through turn 4 (in the reverse direction).
If Friday didn't already give you plenty of track time, Saturday and Sunday would fill your plate as well. Three sessions on each day would round off the weekend. Qualifying on Saturday went terrific, qualified 2nd behind a Lotus Super 7 (not in our class) with Robert in 4th driving the Purple People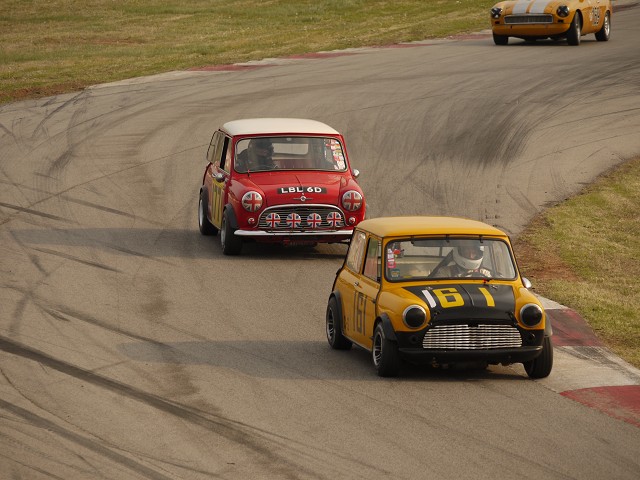 Eater, and Don in 8th driving the Bumble Bee Mini in a field over 35 cars, which is quite a lot on this track.
By Sunday, Don had moved up to 3rd overall, as I stayed in 2nd, while Robert broke out with an engine failure. Sunday's final race, Don and I decided to mix things up a bit, and switch cars and start at the back of the pack. This turned out to be a hoot trying to get back up to the front. Don ended up 5th, while I ended up coming in early after having a shift fork break, and thus allowing the gear box to go into two gears at once. OUCH!
All in all this was a fantastic weekend. The people at Hallett were simple incredible. You'll never meet a nicer bunch of folks out to have a good time racing all weekend. The track facilities were terrific, and the food was top notch. If you haven't been to Hallett, I highly recommend making the trip!
Dennis Racine
April 14th, 2011