Phil Wicks Racing
The Mitty
Road Atlanta – Braselton GA – April 26-29, 2013
RACE REPORT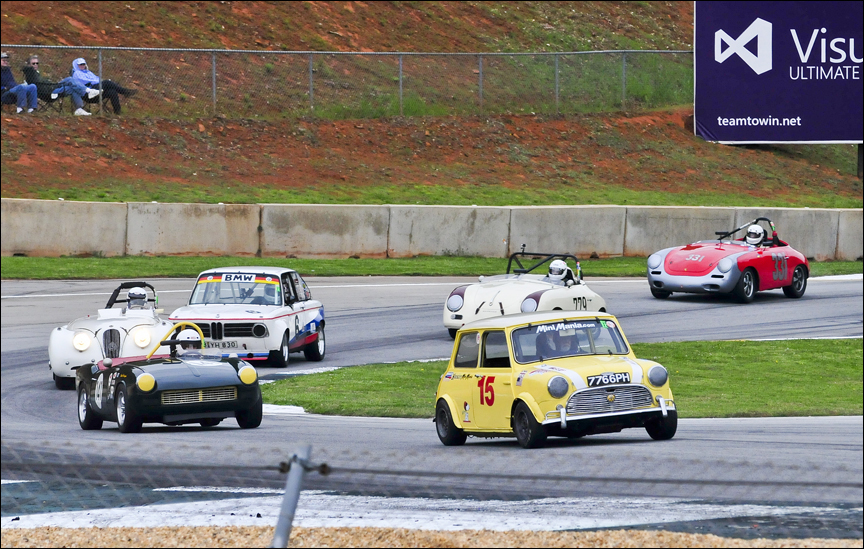 The Walter Mitty road races at Road Atlanta is probably the biggest and most significant vintage racing on the east coast.
Just as in Formula 1 Grand Prix cars and all forms of racing "if you are not further developing and advancing with your on-going modifications," you are going backwards! So, for the last few months, we have been modifying and testing Snoopy Dog (1967 1275 Mini Cooper S) for the 2013 race season. The Mitty at Road Atlanta was our first race this year. Along with parts supplied by Don Racine at Mini Mania, we had been testing suspension settings and rebuilt the engine. But this time, the fresh engine included my own modified cylinder head. Through 54 years of Mini Cooper development experience, I have my own specification formula for cylinder heads, which has proved very successful. Carburetion is is two split Weber 45 DCOE.
We arrived at Road Atlanta feeling pretty confident the car would do well.
First Practice Session, Friday Morning, April 26: Still breaking in the fresh engine and keeping RPMs to 6,500. Driving with a full tank of gas, my lap times were 1:59. The newer suspension setting proved to be better. The temperatures across the Hoosier TDS tires were very good and the grip and wear pattern was great. After a conference with Jeff Speer of Hoosier, we changed the tire pressure a little.
Second Practice Session, Friday Afternoon, April 26: The air and track temperature had increased, giving even better grip and the Hoosier tires were providing better handling. The Mini felt great, so I pressed a little harder, increasing RPMs to 7,000 max. This resulted in lap times of 1:53. I absolutely knew then this car was going to be the best it has ever been.
Qualifying Session, Saturday Morning, April 27: The 9:40am qualifying session was wet and drizzling rain. Jeff Speer advised slightly higher tire pressures. So with Rain-X on the front windscreen (no windscreen wipers), we set off to qualify. Only 30 of the 63 cars in group 2 attempted the qualifying session. Increasing RPMs to 7,500 max, I qualified first in class and ninth overall! My lap time was 2:05. The cars in my class consisted of 4 Mini Coopers – 1275cc – 2 sixty's-vintage Lotus Elites, and 3 Austin Healy Sprites – 1275cc. The other cars in the Group 2 sessions in four classes were mainly, Lotus Super 7, Merlin Sports Racers, Porsche 911, Porsche 356 Speedsters, BMW 2002, Triumph Spitfires, Ginetta G4, MGA, MGB, Chevy Corvair, Jaguar XK120, and Alfa Romeo.
Feature Mitty Race, Saturday Afternoon, April 27: The weather was dry and sunny. Starting 9th on the grid with a rolling start, I felt that I would be gobbled up by the bigger engine faster cars behind me. However, that was not the case. Immediately going into turn 1 at the start, I managed to put Snoopy on the inside of the track and actually passed 2 cars. I was 7th going up the hill exiting turn 1. I had that position all the way to the very fast back straight. Then some of the faster cars passed me. But I managed to tuck in behind them and got a pull (draft) down the straight to turn 10 esses. I love playing "Jack the Giant Killer" mixing it with these cars in the faster groups. It was just like chasing the Jags, Mercedes, BMWs, and Lotus Cortinas around the Nurburgring in the 1960s.
I figured that probably 10 cars would pass me during the race, but I was pretty sure nobody from my class would pass Snoopy, especially as I was pulling 8,400 RPMs in top gear down the straight (approximately 130mph). The car felt great! I knew this was going to be a great race – probably one of my most memorable of the 21 races in Snoopy in the past two years -- 18 firsts, 1 third, and 1 DNF – AND IT WAS! Finishing first in class, 18th overall out of 55 cars that started, and my lap time was 1:50.123 – quite possibly the lap record for a classic Mini Cooper at Road Atlanta. I've got to get into the 1:40s next time!
Feature Race, Sunday afternoon, April 28: The race was a total washout with record rainfall. I did do a couple of warm-up laps and decided without rain tires – or at least street treaded tires – the car was not competitive. So I did not attempt to race.
Many thanks to Carl George, Zapata team chief for all of the support and encouragement. Thanks also to Don Racine and Mini Mania for sponsorship of parts, Jeff Speer and Hoosier Tires for tire sponsorship, Midlands Motorworks in Columbia SC for all the hard wrenching, and all of the fans and well wishers that come by in the paddock.
And, of course, thanks to Norree and Sherry – my two favorite blondes – who understand my addiction for the past 58 years.
Phil Wicks