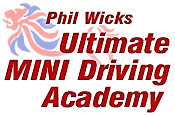 Phil Wicks knows Minis. He's been racing them since the beginning. He's put more miles in Minis on race tracks than many of us have managed to accumulate in our street Minis!
Now he has taken his nearly fifty years of Mini racing experience and brought it full circle. As owner and chief instructor of the Phil Wicks Ultimate Mini Driving Academy, Phil helps a new generation of Mini enthusiasts take full advantage of the handling characteristics of this great car and have the time of their lives driving their around a race track at speeds that would intimidate the uninstructed.
Visit Phil Wicks' website at www.minidriving.com for the latest schedule and registration forms.
Classic Minis
and New MINIs
are welcome at
all events!
Under the guidance of Phil and his hand-selected instructors, students learn at their own pace and at their own speed, becoming more familiar with their Minis with every passing lap. Each Academy event combines classroom and on-track sessions designed to help you get the most out of your Mini, in a safe environment. The class covers safety, emergency maneuvers, and performance driving. It is an experience for every Mini enthusiast, from the seasoned competition driver to the novice newcomer, and both New MINIs and Classic Minis are welcome at all Academy events.
As a marketing partner and sponsor, Mini Mania takes pride in our involvement with Phil's Academy. We recommend it for every MINI driver who wants to safely and steadily learn the skills required to enjoy the performance capability of the MINI. The photos shown here are from an Academy that took place at Carolina Motorsports Park. It is a fast and demanding circuit but Phil and his instructors taught the proper techniques, the best line through the curves and encouraged all with every turn of the wheel. It was a solid two days of track time which everyone enjoyed.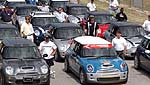 Watch for Phil's Academy to visit a facility near you. Sign up and you'll be amazed at just how good a performance car MINI Coopers are and how improved a driver you will be behind the wheel!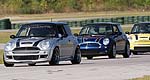 Details and prices for the Phil Wicks Ultimate Mini Driving Academy vary slightly from venue to venue, but you can expect at least six 15-minute track sessions during the class, and rates that range between $150 and $200. In addition, Phil supports Mini enthusiast clubs by offering members a 20% discount at most Academy events!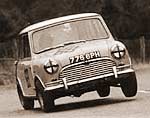 Phil Wicks driving at Nurburgring in Germany.

Phil Wicks has 46 years professional driving experience, which includes 15 years driving and engineering Minis for race on the most prestigious international road racing circuits. He has numerous stunt driving projects to his credit, including the ultimate Mini driving extravaganza, the original "Italian Job" movie. From high profile chauffeur of Rolls Royce limousines and development engineer for Lamborghini, to racing motorcycles and off-shore speedboats, Phil has pretty much done it all!
Further developments will be announced on the Mini Mania and Phil Wicks websites as more Academy events are scheduled. In the mean time, you can read Phil's racing resume and a current schedule of his MINI and general driving classes at www.minidriving.com.
Sign Up for a Phil Wicks Driving Academy Event