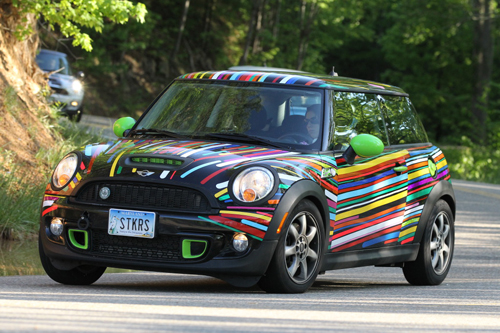 I guess it all started back in 2006 when I was 15 years old and my dad
bought his first MINI, a 2003 Chili Red R50, from a Chevrolet
dealership. He had never shown much interest in MINIs before but I
really liked them and kept telling him that we need one in our life!
Then about a year later we traded in the Chili Red for my first MINI, a
2002 Silk Green R50. Then 3 days later, due to transmission problems
be returned it back to Carmax, it was a sad day. Then we were MINIless
for about a month when my dad was out looking for a car for me and came
home with a 2006 Astro Black R53 for himself. Then about a month after
that I got my second MINI, a 2004 Indi Blue R50 named Indi. Then in
2009 my dad traded in his R53 for a 2009 Pure Silver JCW, and in July
of 2010 I traded Indi in for a 2010 Midnight Black MCS named Stickers.
Then about 4 months ago my dad got a 1980 Classic Mini named Monty.So
you could say I've grown up around MINIs and now their my life.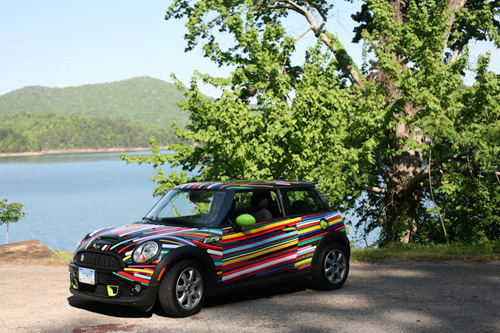 I had Indi for 4 1/2 years, and they were some of the best! And a good year isn't a good year with out a lil modding! Indi had a Megan catback
exhaust, K&N intake, 22mm sway bar, Alta stress plates, pulsing break light and HID headlights! Over those 4 years I went from occasionally
attending DC Metro MINI events with my dad to attending every DC Metro and Central Maryland MINI Motorists (C3M) event, with or with out him.
Now I'm one of the assistant organizers of C3M and love being a part of the planning process for the events! But unfortunately Indi's CVT
transmission started to go, so it was time to say goodbye to Indi and hello to Stickers! Since last July when I got Stickers I've already started to mod him. He's got a Borla exhaust, 2011 bumpers, blacked out chrome, rally green accents, pulsing break light, and 4 air horns
but that's only the beginning, there's much more to come!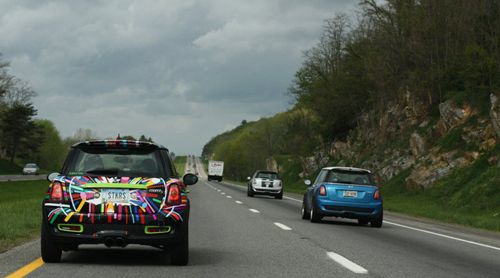 Over the years with many MINIs, there's one thing that I've always loved and looked forward to more than anything, and that's MINIs On the Dragon! This past dragon was my 5th, and it was a blast!! My first dragon we didn't take Indi because I had only had my drivers license for a month so we just took my dads car (R53 at the time) and discovered a whole new world of MINIs. And after experiencing the
dragon, I knew that I had to take Indi the following year. But there are so many MINIs down there Indi would just blend in with the crowd, so I knew I had to do something that would make her stand out. So my
dad came up with the idea of covering her with vinyl stickers, and
little did I know that this would become an annual thing that I would
become known for.
So the next year at my second dragon I covered half
of Indi in yellow interlocking MINI logos, some people notice her but they thought it looked like dragon scales or tire tracks but Indi still kind of went unnoticed. So I knew I had to come up with something better the next year, so I wrote an original story about a little MINI's first trip to the dragon, and it wrapped around Indi 10 times.
That was a huge eye catcher that year, and probably one of the most memorable, and people always ask me what are you going to do to top the story?
Last year I thought I might be able to come up with something but it wasn't as big of a hit as I thought it would be. I did a big neon green tribal design that covered most of Indi and one side was made up of little MINIs and the other side was a mirrored negative. Of course everybody came by at some point to check out Indi to see her graphics for the year but of course it was no story, until this year.
This year I decided to base my design off the 2010 BMW art car with a little flare, glitter vinyl. And it was quite a hit down at the dragon, everybody seemed to love Stickers' stickers, and that this year definitely tops the story! This was Stickers' first dragon and he took home 2nd place for Best 2nd Gen, and Best in Show in the Dragon Car
Show! So what I'll do next year for the dragons 10th anniversary is still a mystery to me, but I'm sure it'll be great!

Happy Motoring!!

Celia Seminerio & Stickers!
I couldn't decide which pictures to send you so here's a link to my photo bucket page http://s1046.photobucket.com/albums/b466/MINIstickers/My%20MINIs/