Mini Cooper Powerflex Polyurethane Suspension Bushings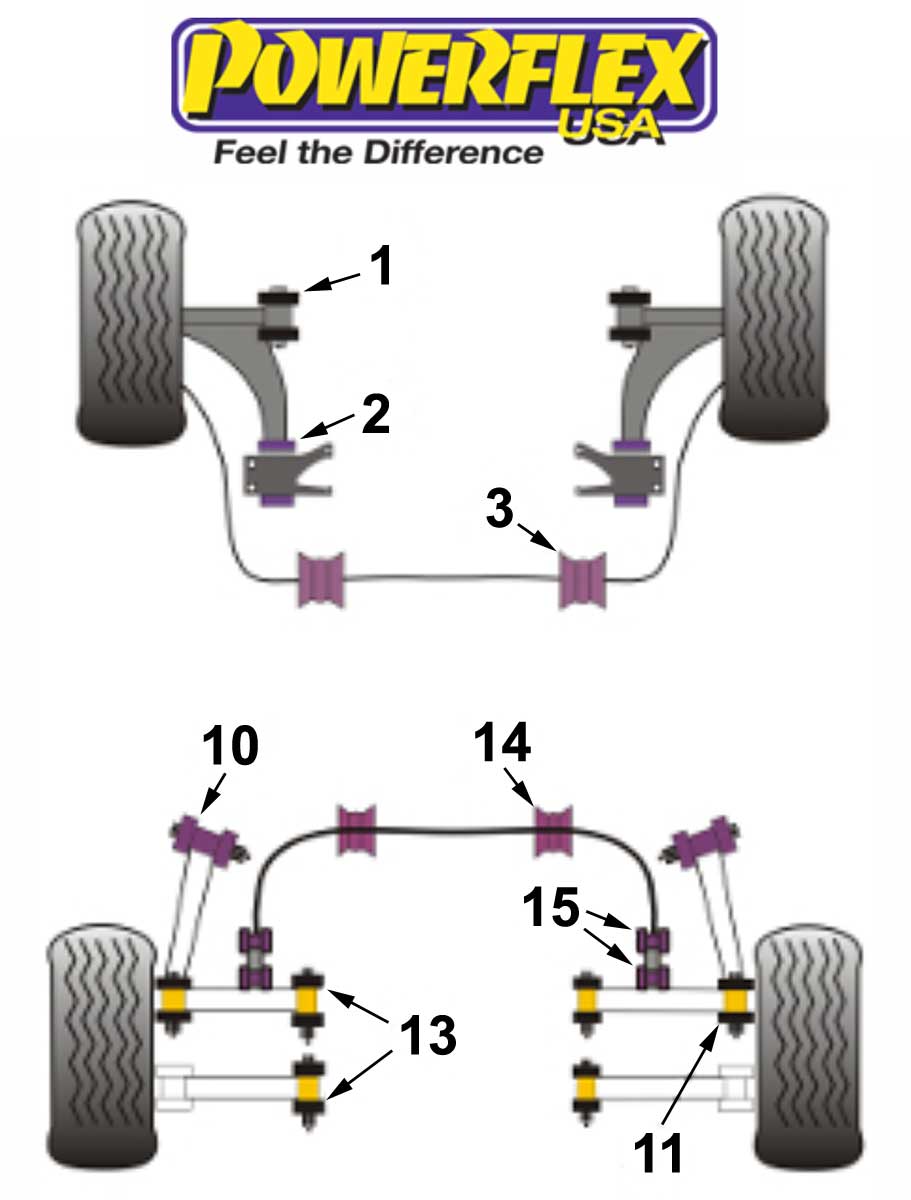 Why Polyurethane Bushings?
Increased Tire Life

Decreased Deflection

Increased Responsiveness

Reduced Braking Distances

Improved Performance

Increased Safety
Polyurethane has been available as a specialized plastic for over thirty years. However, recent advances have made it possible to engineer very special properties into this exciting material.

Suspension bushings are one of the most highly stressed components fitted to a motor car. They undergo enormous strains in the most arduous of conditions with no maintenance or lubrication.


The standard bushings are manufactured from a rubber compound containing natural products which deteriorate with age. It becomes softer and more pliable, resisting the forces placed on it less and less. This allows greater movement of suspension components which results in less control over the suspension geometry. This causes excessive tire wear, braking instability and poor handling. This is the single biggest reason you can instantly tell the difference driving a three year old car and a new one.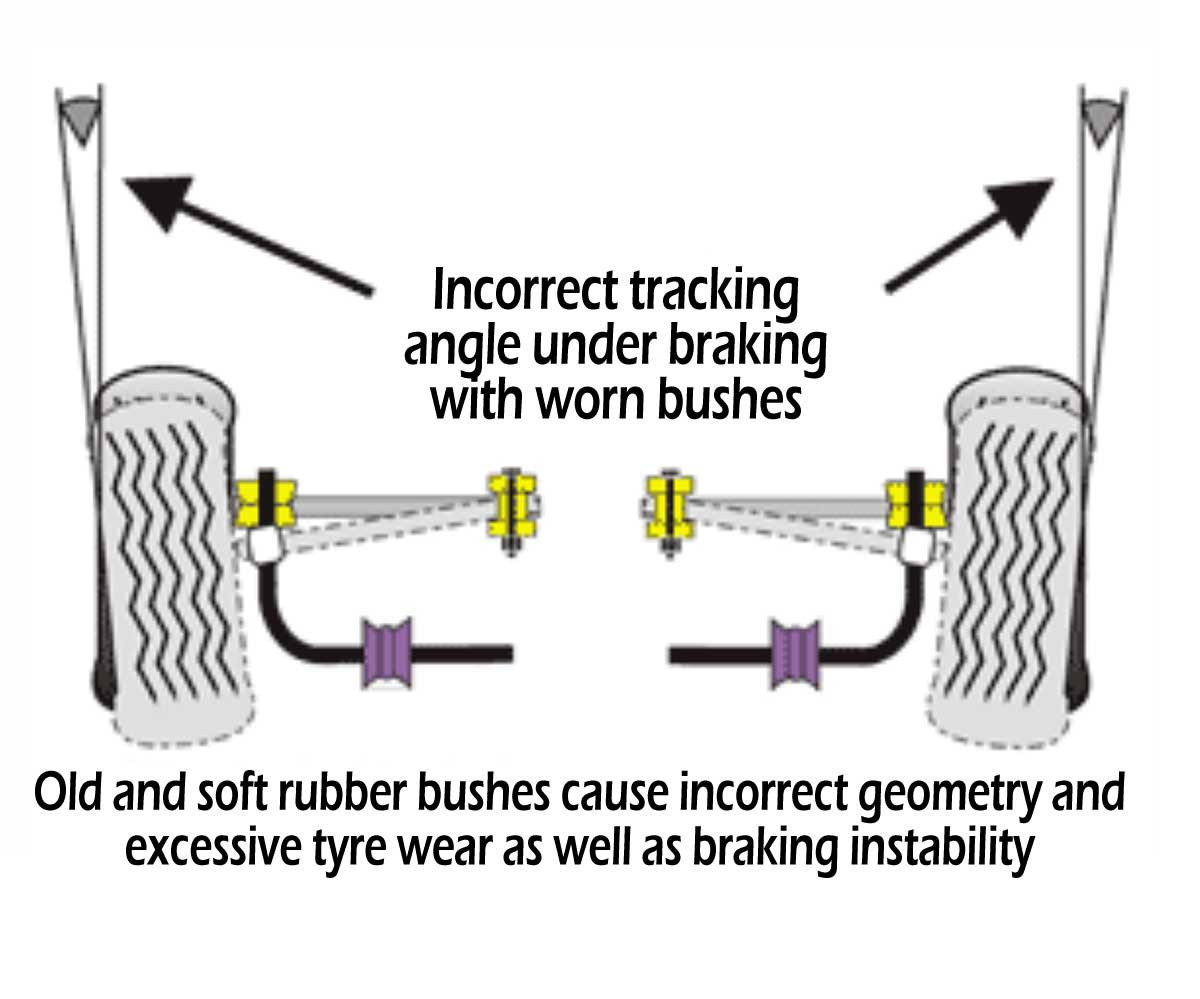 Even new cars will benefit from Powerflex bushings because their superior design offers more effective control of the suspension components to a much greater extent than normal rubber items.


With the technological advances in this material it has been possible to overcome the common problem associated with harder bushings, which is increased noise. By correctly engineering the polyurethane compound, bushings can be made 25-30% stiffer than new rubber items but with exactly the same noise absorbing properties.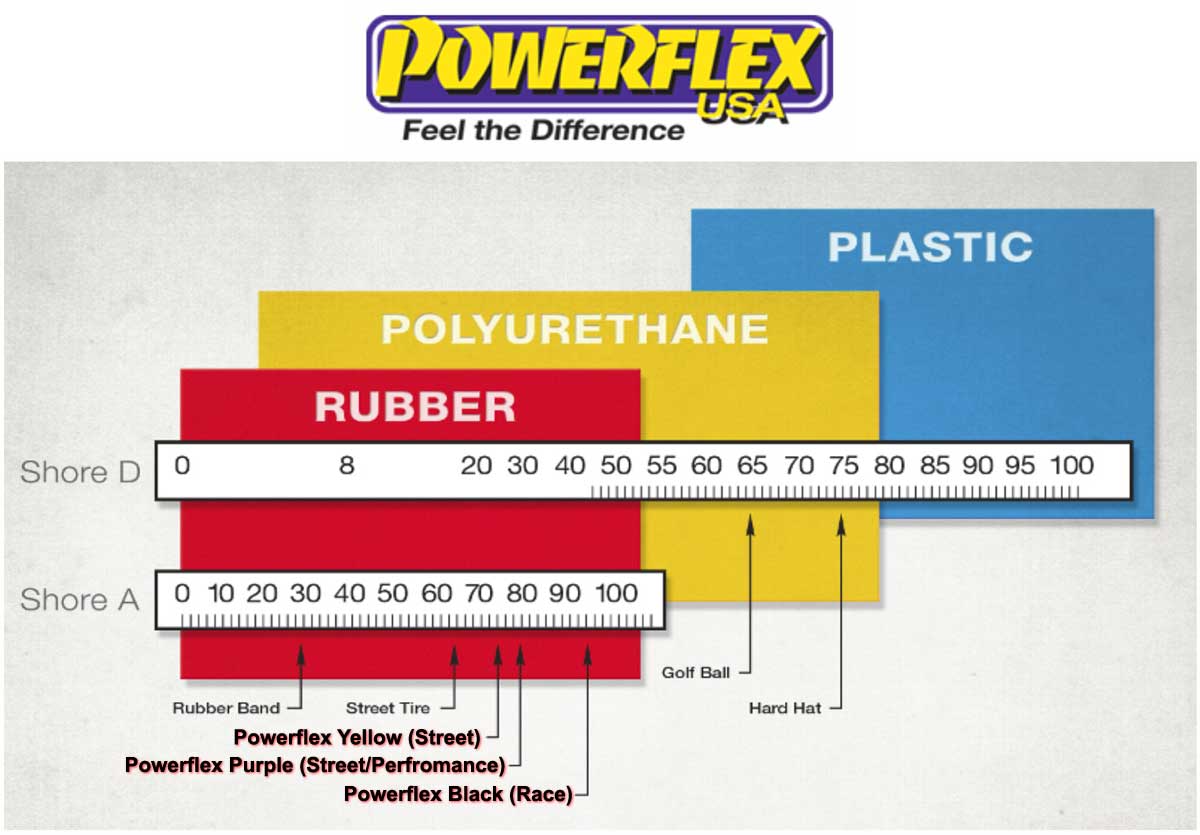 Powerflex Street (Yellow: 70A or Purple: 80A) - Replacement Performance Suspension Bushings
Performance
Durability
Safety

Powerflex Black Series (Race: 95A) - Ultimate Performance Bushings Offering The Most Precise And Accurate Alignment
Designed For The Track
Ready To Race
*Powerflex Lifetime Warranty Available On All Bushings


Powerflex polyurethane bushings are designed to decrease the amount of deflection in your car's suspension which improves handling, driver feedback, and tire wear. We use our own premium polyurethane formulation to provide minimal NVH (noise, vibration, harshness) and increased longevity over stock rubber bushings.


Powerflex is a truly engineered product, not just a copy of the stock part in a different material. Redesigned to address common factory failure parts, Powerflex bushings allow the articulation required to maintain control of movement for increased performance while far outlasting the stock parts they are replacing. Additionally, Powerflex Engineering Line products for some fitments include unique features like polyurethane monoballs and offset geometry to provide ultimate performance without the harshness of metallic race parts.

Powerflex polyurethane engine/drivetrain mounts and reinforcements are available for some fitments to reduce movement for better throttle response and more power to the wheels.
Bushings are produced in one of three durometers – Yellow (70A, approximately 25% stiffer than stock), Purple (80A, approximately 30% stiffer than stock), and Black (95A, approximately 80% stiffer than stock). Unlike other brands using only one urethane grade for all applications, Powerflex design engineers choose the correct hardness to allow for the specific movement or rigidity required for each location while minimizing unwanted NVH.


Powerflex urethane hardness is standardized per fitment and location. This takes out the guess work, so when you choose Street, you know our design engineers have selected the optimal polyurethane hardness for your specific application. Select parts are also available in an optional stiffer urethane (Black Series) for track and autocross performance where NVH is less important.


Powerflex bushing offerings are very thorough, and they are sold per location to fit each customer's specific needs. An automobile's bushings and mounts wear at different rates making "complete-kit" bushing sets unnecessary for most buyers. Replacing only the weak links in your car's suspension is a great way to tighten handling without stressing the budget.
Powerflex copper-based grease is supplied with every bushing set and is the only lubrication we recommend - standard "anti-seize" or white lithium grease traditionally used with urethane bushings are not as effective. Bushings will rarely need re-lubing due to the unique grooves and knurls cast into the material to hold the lubricant.

About Powerflex


Powerflex has extensive knowledge and design experience in automotive suspension and chassis systems. These design skills have been combined with advanced polyurethane manufacturing techniques leading to the development of a wide range of high-performance automotive polyurethane components that are second to none in quality and performance.
| | |
| --- | --- |
| | All component manufacturing is carried out by our in-house engineers utilizing the latest automatic processing equipment to ensure premium quality. Testing of new components is carried out both on test rigs and on the actual vehicle the parts are designed for. |
Stainless steel and aluminum components are also machined in-house on the latest computer-controlled equipment to ensure perfect repeatability and exceptional quality.

The special type of polyurethane used by Powerflex is an advanced proprietary material which has unique properties. This ensures that each product not only offers the high-performance capabilities our customers expect, but also the exceptionally long life and quality they demand - without increased vibration or noise.


| | |
| --- | --- |
| Powerflex gained ISO 9001 accreditation in December of 2014. ISO 9001 is an international standard showing that a company operates within a strict system of quality procedures, and Powerflex was awarded this certification on the first assessment inspection - with no changes or recommendations made to the way our business operates, proving our dedication to providing the absolute best in quality and performance. | |
All of these factors plus our ever-expanding product lineup combine to make Powerflex number one in performance bushings.