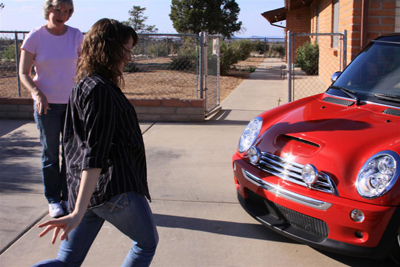 MINIMOE (although unnamed at the time) came to live at house for our daughter's 16th birthday. As early as Rachael began to understand that she too would someday be behind the wheel of her own car, she 'MINI-spotted' as she drove with us around town. We endured years of "MINI ecstasy" at each spotting, and exceptionally unbridled excitement whenever she spotted a red MINI. Perhaps for just as long ago, my wife and I vowed to find the 'perfect' MINI for her 16th birthday.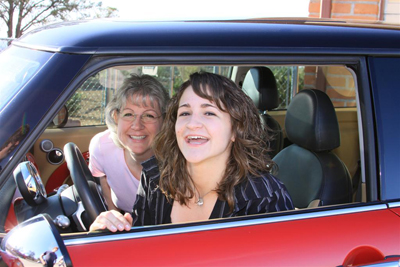 Several months in advance of that most special landmark in a young driver's life, our search began for her dream car. Not surprisingly, we knew our search to be limited to RED MINI's. That mandate clearly reduced the available choices and as we widened our search, our hopes of finding the perfect MINI by her birthday did not improve. Months of fruitless searching only increased our anxiety as her birthday crept ever nearer – still the perfect MINI was not parked in the drive. With only two days before her birthday we found a very nice MINI for sale. Was it the perfect MINI? We had to admit it wasn't, and time was running out. The day of her birthday was a wonderful day indeed, but her perfect MINI was not to make its debut that day. Our search continued ever wider but we had to cut off the search criteria somewhere and a 4 hour drive was the limit. Nearly a month had passed and still the perfect MINI was remaining elusive. Then exactly one month to the day, we found it. And it was less than 2 hours away!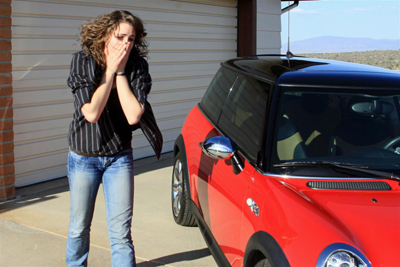 Red it was, but certainly more than just that. A 2006 MINI Cooper S that was a special ordered factory built R53 MINI S equipped with about every option available at the time, including an automatic transmission. Perfect for a girl who had no idea how to drive a manual.
Taking off from work for the day, we drove to Scottsdale, AZ and made the deal. Driving a MINI for the first time for was perhaps the most fun we fun my wife and I have had behind the wheel in a very long time (we traded places halfway home). That day we were fortunate enough to get home before Rachael where we gave a quick de-bugging and angle-parked it just right in the drive. The perfect MINI in the perfect pose.
Although it is not the least bit surprising, Rachael's somewhat over-the-top reactions were purely from the heart. The photos tell the rest of the story…