About Powerflex
Powerflex has extensive knowledge and design experience in automotive suspension and chassis systems. These design skills have been combined with advanced polyurethane manufacturing techniques leading to the development of a wide range of high-performance automotive polyurethane components that are second to none in quality and performance.

All component manufacturing is carried out by our in-house engineers utilizing the latest automatic processing equipment to ensure premium quality. Testing of new components is carried out both on test rigs and on the actual vehicle the parts are designed for.
Stainless steel and aluminum components are also machined in-house on the latest computer-controlled equipment to ensure perfect repeatability and exceptional quality.
The special type of polyurethane used by Powerflex is an advanced proprietary material which has unique properties. This ensures that each product not only offers the high-performance capabilities our customers expect, but also the exceptionally long life and quality they demand - without increased vibration or noise.
Powerflex Accreditation
| | |
| --- | --- |
| Powerflex gained ISO 9001 accreditation in December of 2014. ISO 9001 is an international standard showing that a company operates within a strict system of quality procedures, and Powerflex was awarded this certification on the first assessment inspection - with no changes or recommendations made to the way our business operates, proving our dedication to providing the absolute best in quality and performance. | |
The Powerflex Difference
Powerflex uses premium polyurethane materials for minimal NVH (noise, vibration, harshness) and increased longevity over the stock rubber bushings. The quality of Powerflex products can be seen the moment you open the box: premium polyurethanes, detailed moldings, lube holding grooves and knurls, and 304 stainless sleeves. Each kit is supplied with a copper-based grease for extended squeak-free operation. In some applications, they have polyurethane engine/ drivetrain mount and reinforcements to reduce movement for better throttle response and more power to the wheels.
Powerflex polyurethane bushings are designed to decrease the amount of deflection in your car's suspension for better handling, driver feedback, and tire wear.
With the technological advances in this material it has been possible to overcome the common problem associated with harder bushes which is increased noise. By correctly engineering the polyurethane compound, bushes can be made 25-30% stiffer than new rubber items but with exactly the same noise absorbing properties. POWERFLEX bushes make sense.
POWERFLEX for prolonged tire life.
POWERFLEX for improved performance.
POWERFLEX for increased safety.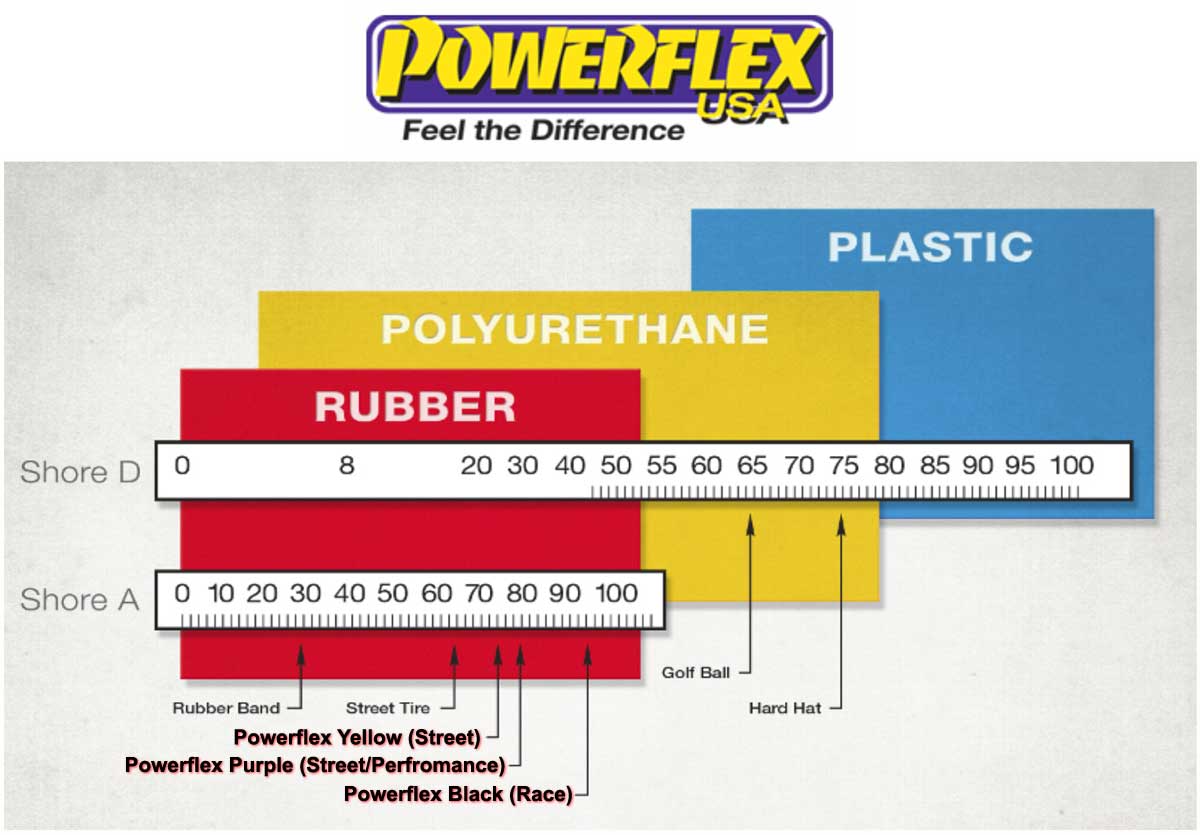 All of these factors plus our ever-expanding product lineup combine to make Powerflex number one in performance bushings.
Learn more about
Powerflex Bushings
and the difference between Street, and Black Series Bushings.