Photo Log Part 6 - Mini Mania Crosses America
Beautiful scenery along the roads to Watkins Glen in the fingers lake region of upstate New York.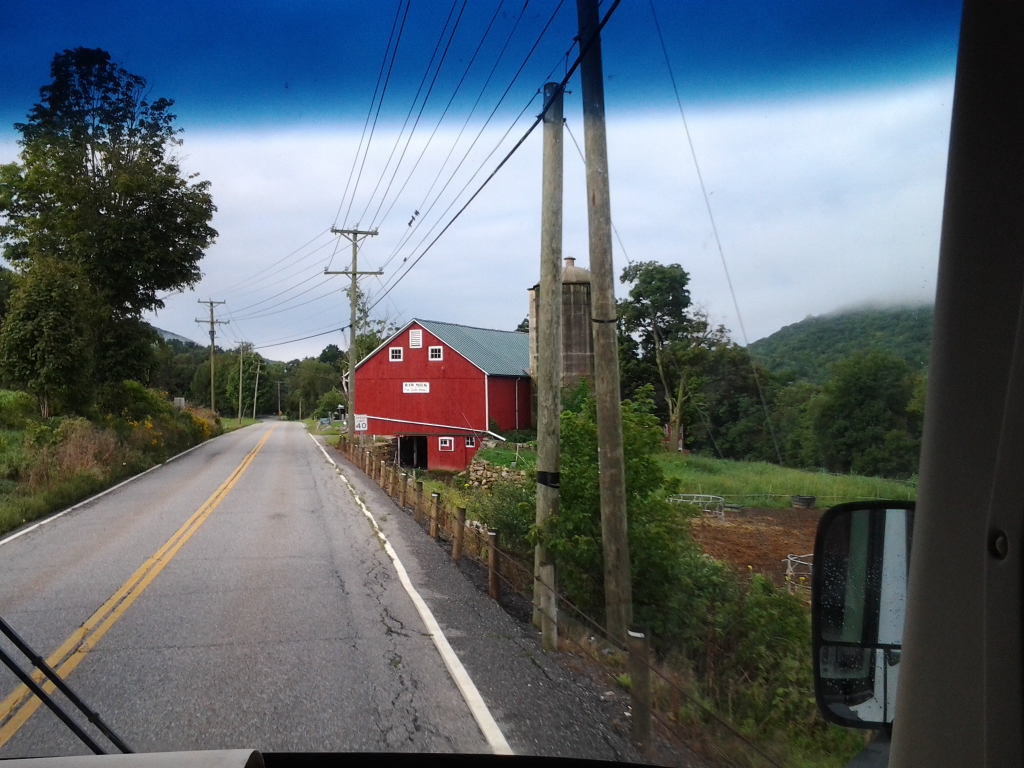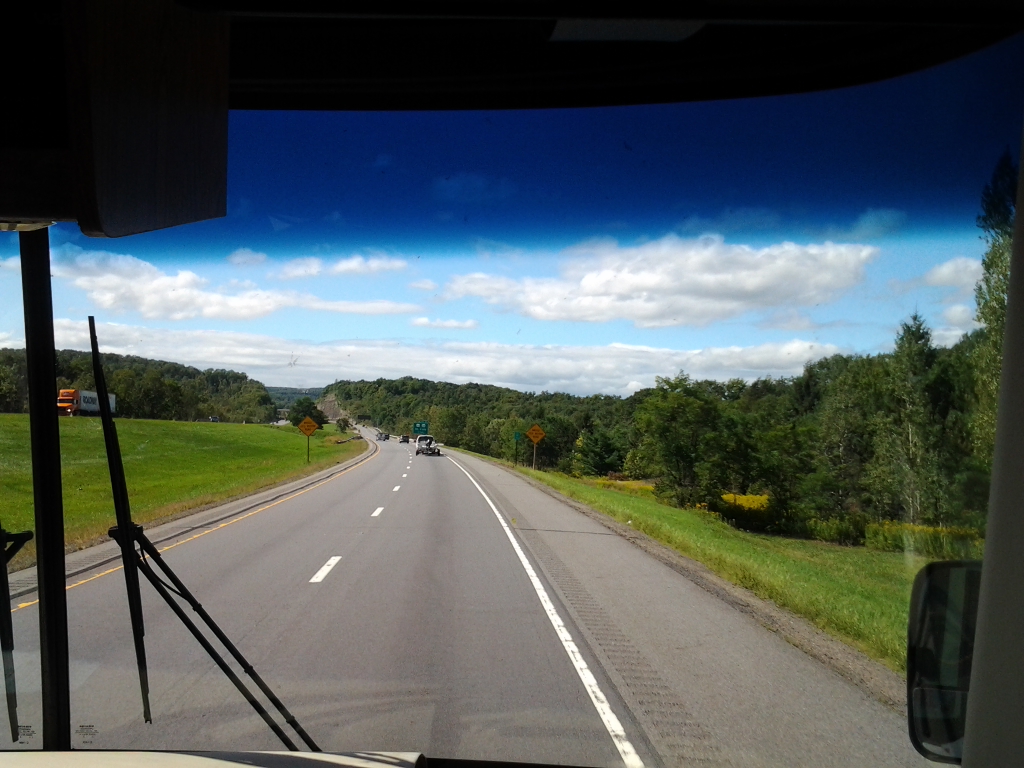 We did have a couple unplanned stops...
Stop #1......Don has been awaiting delivery of another spare motor from California (remember we needed spare motor #1 after Grattan Michigan) A lot of delay in delivery.....we just happened to be driving by the UPS freight distribution center on I-84 in Newburgh NY and found out that was where the motor was! So we pulled in and loaded it up into the trailer. What a coincidence!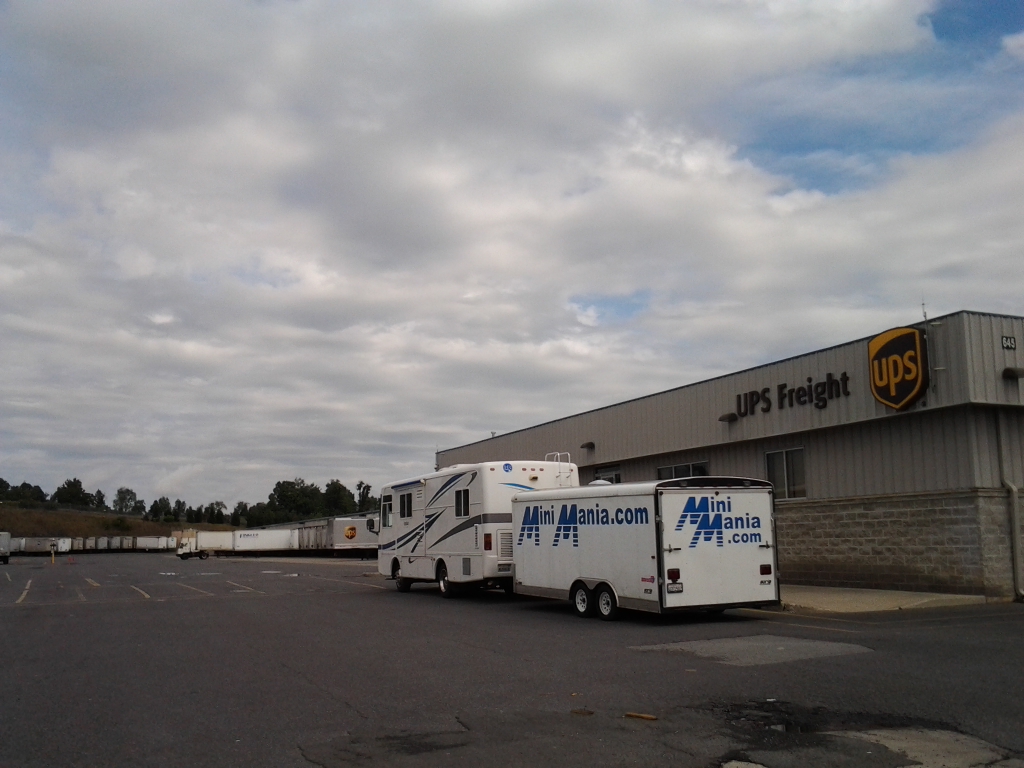 Stop #2...... Lots of noise coming from the front end of the RV. We pulled off the freeway in Danbury Connecticut. Don checked out the chassis framework and found the previously welded brace had broken loose. We called a local welding shop and they said they could send a mobile unit to us in 15 minutes. First class service and first class welding work! Many thanks to Jim's Welding for a job well done.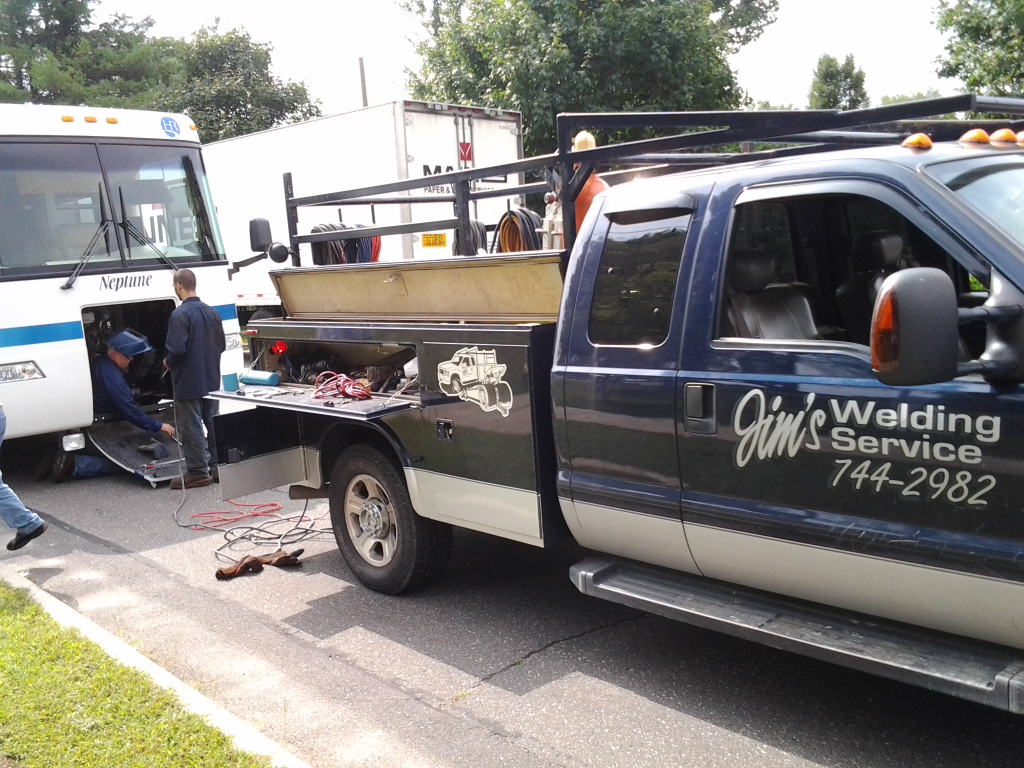 Here we are at Watkins Glen. We came early so we could get a good pit...which we did..... A view of the hills, next to other Mini's, and grass for Bella! Since Mini is the featured marque at the Glen, we have seen hundreds of them parked around. 7 classic minis are entered in the race
Track info?Grand Prix course 3.4 miles, 11turns, 2400ft backstretch, 115 ft elevation change.
The Minis are the official pace cars at Watkins Glen U.S. Vintage Grand Prix. See Bella checking out the Coupe.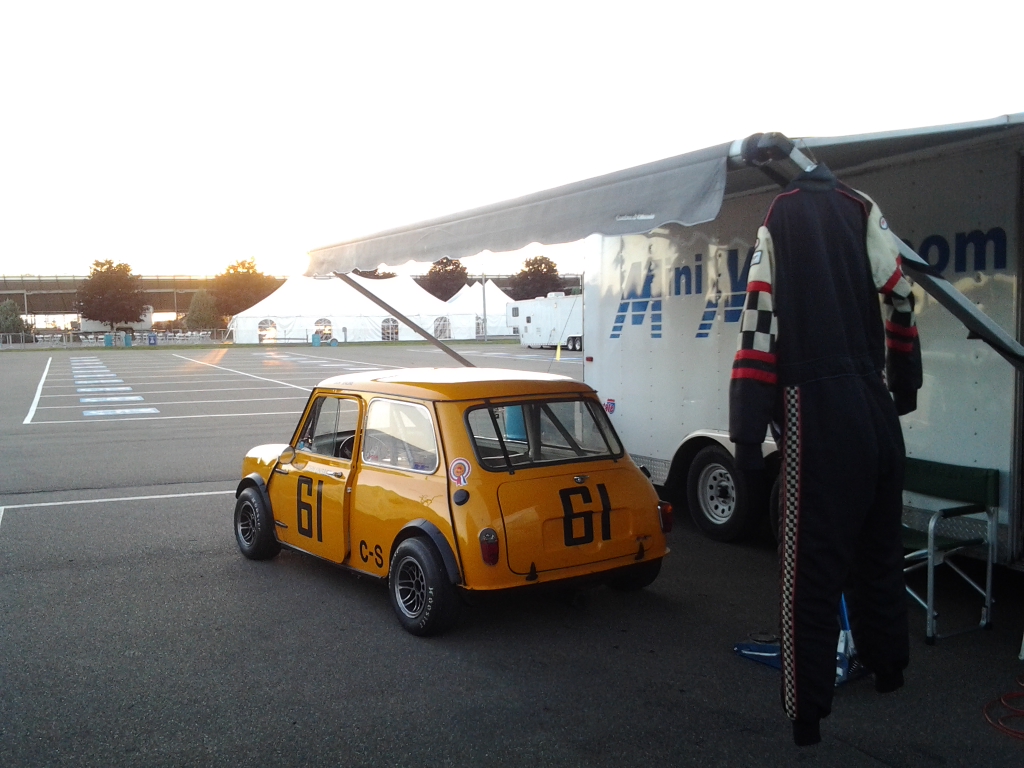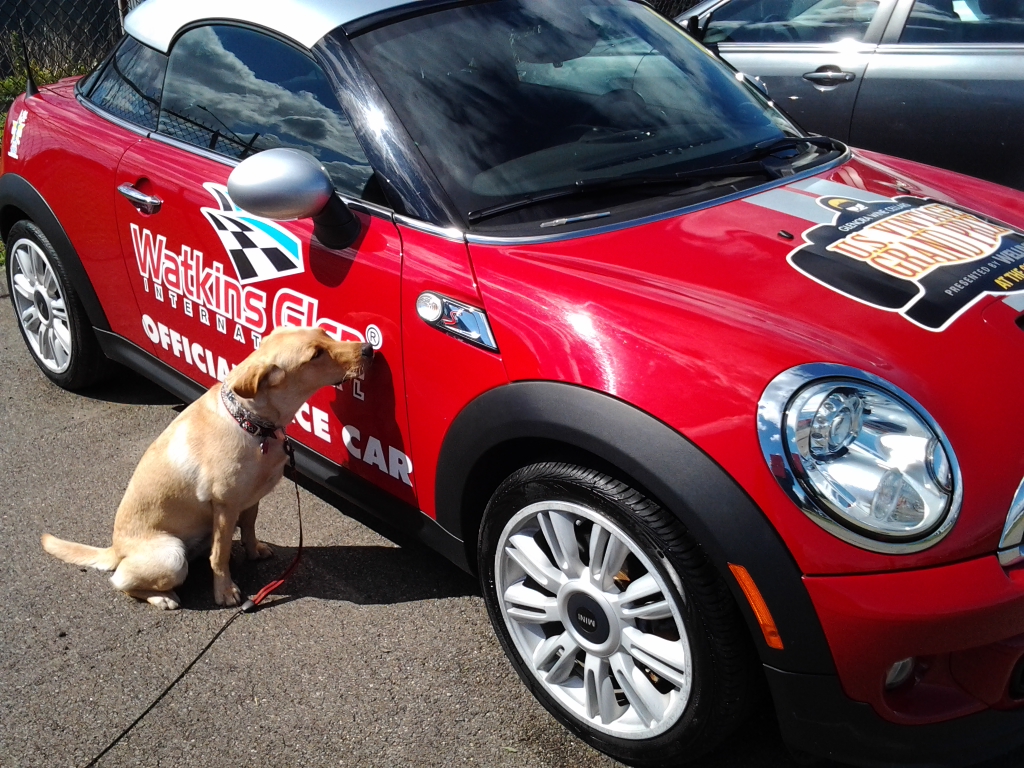 Thursday afternoon practice session was the first track time for Don. The car had been driven hard at Limerock, and we had noticed some oil issues with the crankcase breather. It was very obvious after the practice session that the loss of oil was too much, and the engine wasn't up to race standards. So..........Don decided to use the "new" spare engine that we had just picked up at UPS, and beginning at 4:30 pm, he unpacked the hoist, tools, and motor! Our next door Mini pit pals offered their help and tools, and the old engine was out. By 10:00 pm, the new motor was in and partially attached. A tired crew (Joe, Dave, Jesse) packed it in for the night, and headed for bed. The next morning's race was at 8:50 am.....would the car be ready to race??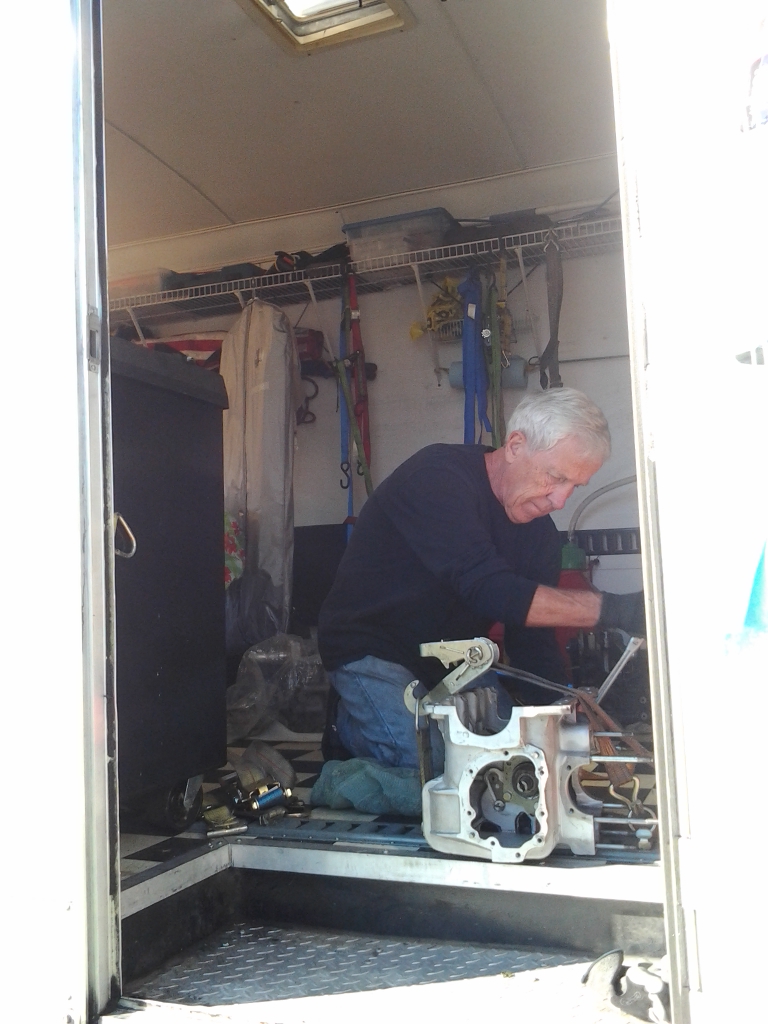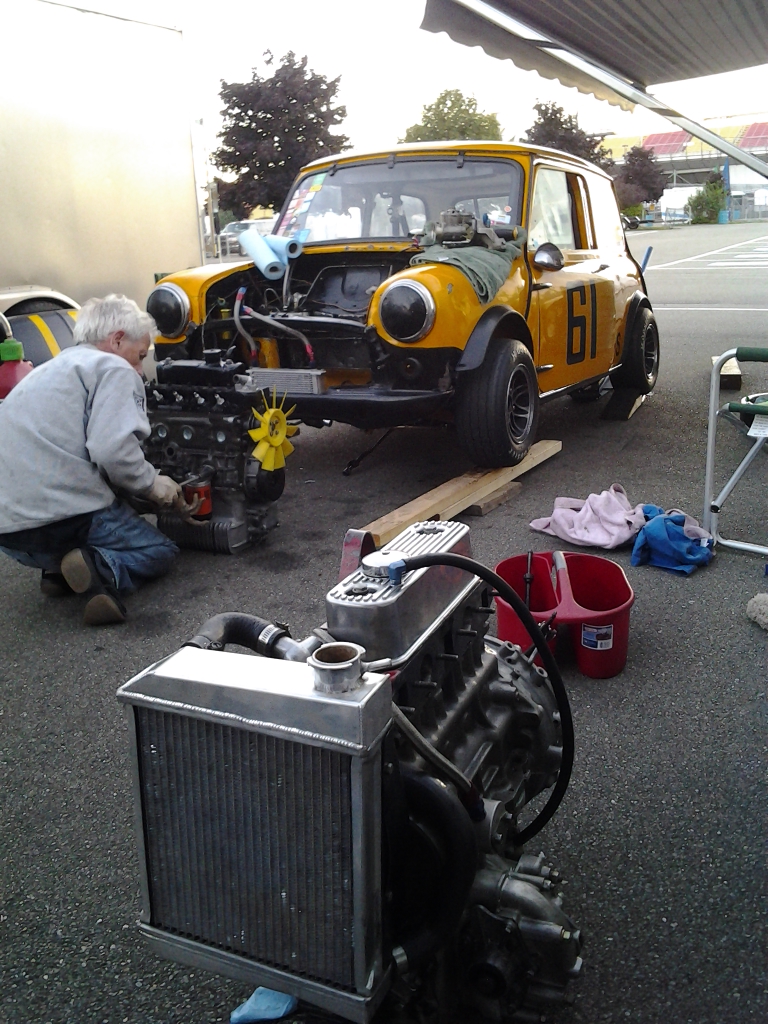 Two sessions today, on an untested engine........
The first, a qualifying session, started on time.
Don revved it up, and took off with the pack of 6 other Mini's. No smoke from the exhaust..always a reassuring sign! I held my breath, waiting to see if the little yellow Mini would make it around the track on the first lap. Now, 3.7 miles is a very long track, and it was a long 2 1/2 minutes until the cars made it around........and there was Don! He had even picked up a place. Go Don!!
By the end of the race, he was in 5th place, out of 29 cars. A good starting position.
The afternoon race went well, too. Don worked the motor as hard as he could, trying to not over rev it. Another respectable 5th place finish, with very good lap times.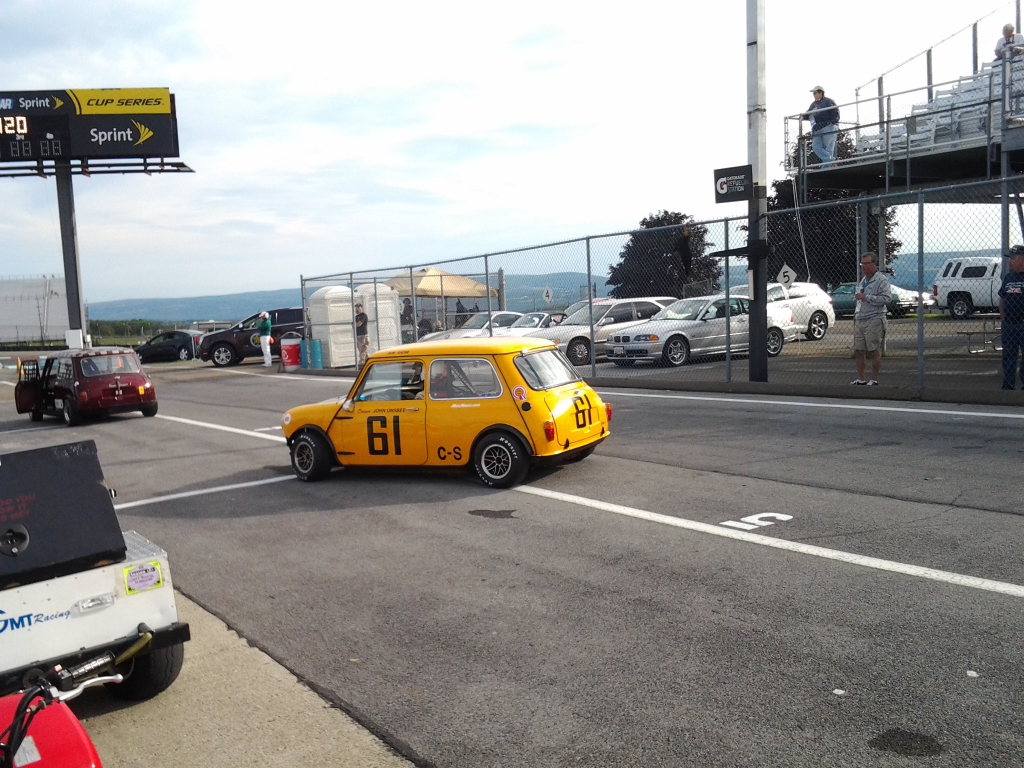 One of the most exciting and fun events at Watkins Glen was the Grand Prix Tribute old course re-enactment Thursday afternoon. From 1948 - 1952, Watkins Glen hosted a 6+ mile Grand Prix Race through downtown and surrounding countryside. This re-enactment is the only remaining such event in the United States that follows an original Grand Prix race course. 135 chosen vintage race cars drove from the race track to town and lined the Watkins Glen streets for a very impressive car show. Then we all roared off (literally for the #61 Mini, since our muffler had fallen off with the low clearances!) and made three laps around the old course. Over 15,000 spectators turned out and lined the 6+ mile course to cheer us on. It was exhiliarating!!
We drove back to the track, covered up the Mini, and finally relaxed. Spending 2+ hours riding in a loud race car can make a person tired!
We recorded this event on GoPro camera..look for it in a week or so on the MM website.