MINI Cooper S Engine Comparison N14 vs N18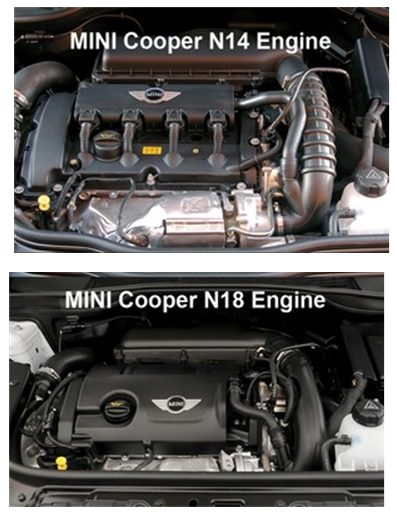 N14 Engine - N1
4B16AC (171hp / 177 ft-lbs)
Infinitely variable single VANOS (intake only)
Siemens DME MED17.2 engine management
N18 Engine - N18B16M0 (181hp / 191 ft-lbs)
The double-VANOS system continuously adjusts the camshaft positions for both the intake and the exhaust valves.
A map-controlled oil pump is a special type of variable oil pump, equipped with an electromagnetic control valve.
Variable valve timing (Valvetronic) with 3-phase servomotor and integrated eccentric shaft sensor
Composite camshaft construction
New piston design
Siemens DME MEVD17.2.2
The PCV system has been updated in the N18. In Place of an external hose on the passenger side, the vacuum line is internal to the valve cover. This may reduce propensity for effluents pooling in the intake manifold. The boost line between the valve cover and turbo intake pipe is different from the N14
The N18 added a cosmetic cover over the front of the valve cover.
The N18 adds a small heat shield over the turbo oil pipe to help mitigate any coking in the line.
The turbo intake pipe in the N18 is rigid, as opposed to the flexible pipe in the N14.