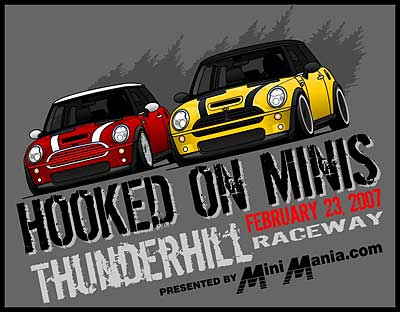 Modern AND Classic Mini Drivers Unite!
Minis Only at Thunderhill Raceway
'Hooked On Minis' Presented by Mini Mania
Friday, February 23, 2007
Presented by Mini Mania, Hooked On Driving is proud to host this special Minis-only track day. With our normal high quality coaching, a great lunch, a very cool event T-shirt, and all your friends to run with, this event will be a highlight of your year. Caravan to the track on the night before and make it a two-day happening! Both Classic and BMW Minis are welcome. On Mini Day, run groups will be as follows:
A - Beginners
B - Low Intermediates
C - High Intermediates
D - Advanced
NOTE: All event registrants will receive a complimentary copy of the HOD "Getting On Track" performance driving video, shipped in advance of the event!

Registration Fee: $295.00
http://www.hookedondriving.com/category.cfm?category=1
Places to stay around Thunder hill can be found here: http://www.hookedondriving.com/trip_planner.cfm
For information on Thunderhill Raceway, visit http://www.thunderhill.com/.