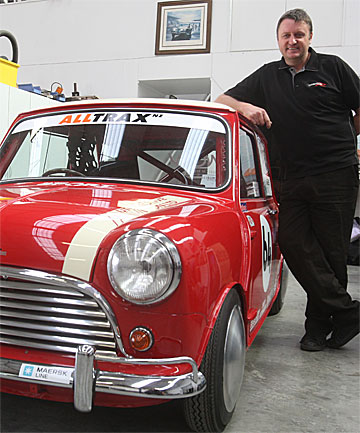 New Zealand's Nelson Hartley Goes for Speed
Talk about cars and speed and New Zealands' Palmerston North's Hartleys won't be far away.
This time it is Nelson Hartley, brother of the illustrious Brendon, who is getting fired up to take on the world.
Come August next year and Nelson will be behind the wheel of a Mini screeching across the Bonneville salt flats in Utah chasing four world land-speed records.
He will drive safe in the knowledge that he and his father, Bryan, will have built the engines – there are two of them – at their Head Shop in Palmerston North. Their racing engines are renowned throughout the country.
Nelson aims to coax the wee car up to 260kmh, pushing it up to terminal velocity.
"In a Mini with a 1000cc engine, that's quite a challenge," he said. "The car is small, light and pretty unstable. Minis aren't designed to go that fast."
There are no restrictions on what can be done to the vehicle so all that will be standard will be the body shell. The engine will not be; it will be turbocharged or supercharged.
The Hartleys estimate it will be seven times the horsepower of a standard Mini, about 250hp running at 9000 revs. A Mini Cooper S runs at about 75hp.
They will be hoping the engine does not blow up before they have completed the one-mile journey, there and back. It is more likely to blow up rather than get airborne.
"You can get into wheelspin at top speed," Nelson said. "It will be more of a challenge than going down a full drag strip."
It all came from an idea hatched by the owners of Victory Automotive in Nelson, Gary Orton and Guy Griffith. Both Nelson and Brendon Hartley had driven Toyota Racing Cars for Victory Motorsport in the past and they had known the Hartley family for years.
They obtained a 1964 970cc Mini Cooper S for the $100,000 project and will attempt to break 212kmh (132 mph), the record for any 1000cc car. A Mini has never gone faster than 194kmh (121mph) and the Hartleys feel that is well within reach.
There are also records for two classes of fuel, petrol and alcohol.
Bryan Hartley has obtained a BMW motorcycle cylinder head, to generate more power.
They will test the car in New Zealand beforehand, probably on a drag strip, before the car is shipped in a container to the United States for Bonneville Speed Week. It has been held since 1949 and hundreds converge on it to make and break speed records.
"It's something to tick off the bucket list," said Bryan Hartley.
New Zealander Burt Munro set his motorcycle record there in 1967 and that led to the 2005 movie, The World's Fastest Indian.
Driving in the penultimate World Series Renault round in France yesterday, Brendon Hartley was again one of the fastest and finished third in race 1. In his second race, he was flying until a car spun in front of him, struck his rear wheel and punctured the tyre.
[cite:manawatu standard]
Related Articles: